Gear Court: Don't Bug Me!
I recently tested the Ex-Officio Insect Shield® clothing, in the form of a hat and bandanna that were given to me. Claims like 'insect resistant' always immediately wake up my inner skeptic, so these items had to go above and beyond to make me a believer.
The label states that it "repels ticks, ants, flies, mosquitoes, chiggers and midges" (no-see-ums). The active ingredient is permethrin, which can be nasty stuff, but is approved for this type of human use at low levels by the EPA.
The permethrin does what it's supposed to do. Both the hat and bandanna are guaranteed to be effective through 70 washings. I don't see myself ever washing the hat; grime is part of the character of the hat. The bandanna is now up to 18 washings, and still going strong. Once the efficacy of the repellent is gone it cannot be added back into the clothing, but you're still left with some great clothing.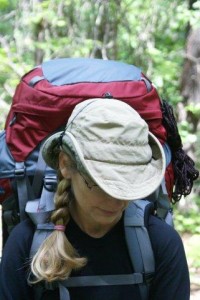 I've used the items so far on open prairie, where the horseflies were bad, and in dense, damp forest, which swarmed with mosquitoes and held ticks in all the vegetation. I noticed when I wore the hat brim turned up, Aussie style, insects buzzed my ears, but when I turned it down they kept their distance. I tried the bandanna alone, tied around my neck, and only had problems with horseflies dive-bombing the top of my head. Flying pests get within about 2 inches of the clothing and back off.
The hat sells for $36 and the bandanna for $12. These products worked well enough I would consider buying more, starting with socks to keep the ticks off my legs. As someone who has had Lyme disease, and just gets cranky around insects, they are worth the money to me. I give them both two thumbs up.~Traci Schauf
View Ex-Officio insect repellent clothing at http://www.exofficio.com/product_results.aspx?mode_page=SEARCH+NAV&free_text%7C1274883578496=insect%20shield&AnswersPerPage=46&AnswersPerPage=46&first_answer=1
About Traci Schauf

Traci Schauf ia a blogger, a blonde, a bookphile and outdoor obsessed. She contributes "The Happy Camper" to The WON. She also hosts her own daily blogs about her family and outdoor life. View all posts by Traci Schauf →
The Conversation