Get 'hooked' on latest innovation for displaying prized trophy with 'Little Hooker' from Skull Hooker
The innovators at Skull Hooker™ have unleashed the latest approach for transforming your home into a stylish trophy room with the all-new Skull Hooker 'Little Hooker' — the sleek and sophisticated solution for displaying your trophy buck European mounts. With killer design features flaunting the look and feel of a five-star hunting lodge, the professionally finished
'Little Hooker' can securely 'hook-on' to and mount any deer species without the need for drilling into the skull.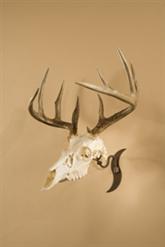 The incredibly versatile and affordable Skull Hooker 'Little Hooker' adjusts both up and down, as well as side to side — so you can create a visual appearance that will best compliment your home, office or outdoor living space. The Skull Hooker 'Little Hooker' also features your choice of a powder-coated Graphite Black or a slick Robust Brown finish that not only looks great but ensures the mount is incredibly durable and will showcase your prized trophy for seasons and years to come.
True to its unique and user-friendly design, the Skull Hooker 'Little Hooker' is a cinch to
install — all you need is a Phillips screwdriver and a 3/8 inch wrench, plus the included hardware, and you're ready to mount! Perhaps the most compelling aspect of the Skull Hooker 'Little Hooker' is its unique fit — the patent pending mounting prong fits naturally into the skull cavity without any necessary drilling into the skull.
The Skull Hooker 'Little Hooker' is ingeniously fashioned to support all deer and antelope species (North American and African), as well as black bear, cougar, wild boar, exotic sheep and more. And, for sportsmen on the hunt for a mount that will support larger game animals such as elk, moose, brown/grizzly bear, caribou, kudu, cape buffalo — and virtually any big game animal — Skull Hooker also offers its stylish 'Big Hooker'. All Skull Hooker products are proudly made in the U.S.A.
For more information on a refined approach for displaying your trophy European mounts on a Skull Hooker, contact: Skull Hooker at P.O. Box 257, Klamath Falls, OR 97601
Phone: 541-884-3177 • or visit online at www.skullhoooker.com.
Editor's Note: For hi-res images and releases, please visit our online Press Room at www.full-throttlecommunications.com.
About The WON

The Women's Outdoor News, aka The WON, features news, reviews and stories about women who are shooting, hunting, fishing and actively engaging in outdoor adventure. This publication is for women, by women. View all posts by The WON →