Julie Golob wins Women's Open Division — ICORE 2010
LOS OSOS, Calif. — In an exciting finish to the Women's Open division match, International Confederation of Revolver Enthusiasts, Team Smith & Wesson scored another victory as team captain Julie Golob of Glasgow, Mont., claimed the top spot for the second year in a row by coming from behind on the final stage.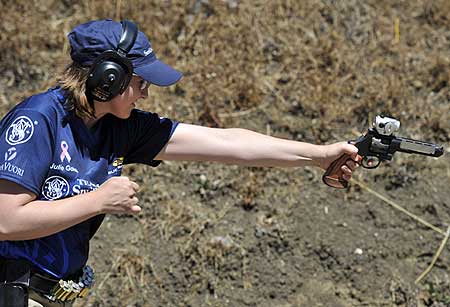 Despite winning four stages, Golob trailed throughout the match overtaking the leader and fellow Smith & Wesson team member, the 13-year-old up-and-comer Janae Sarabia of Lompoc, Calif., with her final shots of the match on a stage where accuracy is paramount.
The final stage is the standards stage and consists of targets as far out as 50 yards. Shooters have to put six rounds into a four inch x-ring to avoid time penalties, making the stage the literal 'make or break' point in the match.
Golob's winning time of 404.59 represented her third major victory of the 2010 shooting season and one of nine titles that her shooting team captured at this year's IRC.
"I go into the IRC with a fresh outlook, expecting to be challenged. Since I don't routinely shoot revolvers in competition, and I only put a couple hundred rounds downrange in practice, coming out this match with another women's title is pretty special," said Golob.
Claiming second was Flora Yang of Cerritos, Calif. who won three stages, including the all important standards stage, and posted a final time of 413.87.
After falling out of the lead on the 12th stage, Sarabia finished third among the women competing in the Open division. However, her final time of 417.83 won the Junior Open title and gave Smith & Wesson its third title in the division.
"I was pretty happy with how I shot the match. I've been improving all year long and and feel a big sense of accomplishment taking third and ecstatic that I finished as the top junior," said Sarabia.
About The WON

The Women's Outdoor News, aka The WON, features news, reviews and stories about women who are shooting, hunting, fishing and actively engaging in outdoor adventure. This publication is for women, by women. View all posts by The WON →
The Conversation