My Job … My Outdoors: Teen Sara Brandenburg trains to take new world record for North American Grand Slam for sheep

We get excited when we look at the next generation of outdoorswomen. Sara Brandenburg, a 15-year-old high school student from Longmont, Colo., is presently training to shatter the woman's world record for a Grand Slam of North American sheep. The youngest record holder is 32. In order to achieve this distinction, she has to hunt one more sheep, a Stone sheep in the Yukon this August.
She already has taken the other three types: desert bighorn, Dall and Rocky Mountain bighorn in less than a year. We think you'll enjoy Sara's account of all the hunts and in particular, her pleasant sense of humor and ability to roll with the weather that Mother Nature sends her way. We also think she is blessed to have a dad who has mentored her, even if he does take her out on "death marches" as part of her training regime.
My Job
I am a student at Longmont Christian. Missing almost two months' worth of school my freshman year was hard. I was doing my make-up homework on the mountain – attempting to teach my guides algebra and grammar to pass the time. A few times, I even threatened to burn my books to start a fire and stay warm. But to my dismay, my dad said I must pass this year, or else no more hunting trips. Luckily after months of hard work, I passed my freshman year with straight As. Now I continue to balance my schooling with sports, hunting, and working at Dad's Pawn and Gun store. I try to give back to my family as much as I can for giving me the privilege to go on all of these extraordinary adventures.
My Outdoors
I contribute to the outdoors as much as I can. My parents decided to raise their children in the outdoors. They did not want their kids growing up with video games, potato chips and television. Instead, they wanted us associated with the outdoors. They would throw both my sister and I in backpacks and go for miles. My parents would teach us the importance of God's country. They showed us the different types of plants and animals and described to us how to survive in this world.
When I was 13, I took my first animal – a pronghorn antelope in Wyoming. From then on, I was hooked on hunting. It was like nothing I had ever experienced before – eventful, overwhelming, adrenalin rush, an unforgettable experience. The following year, I headed back to Wyoming and took my second antelope, then went on an African safari with my dad and took four beautiful animals. It was an experience of a lifetime. It helped me realize I am truly blessed, and I need to be thankful for what I've gotten and not what I want.
The next year, I was lucky enough to draw whitetail in Colorado! During the frigid winter, my dad and I headed down to the Colorado-Kansas border. Finally, on our second trip, I got a dandy 5×5 whitetail.
After my Dad returned from British Columbia with a real trophy bighorn and several stories, he told me that he and his guide came up with the idea of having his daughter (me) going for the Grand Slam, which brings us to my latest story … I did not even know what kind of work was required in getting all four North American wild sheep. I started preparing myself as soon as I found out I would go for the first one in just a few months, August 2009! I started shooting as often as I could, working on perfecting my group and getting more familiar with longer distances.
Finally, August was here! I found myself sitting in the Anchorage airport, asking my dad what it was going to be like? I was bugging him with every hunting question imaginable. He answered every question with the simple answer: "It will not be like anything you have ever experienced." I started my Dall sheep hunt with a 69-year-old guide, my dad and me. All of us scaled the highest peaks looking for little white dots, which would be Dall sheep, in the distance. In eight days, we conducted 12 different stalks on "almost shooters." Although I was disappointed, I knew God must have another ram in mind for me. Finally, I found him. On the eighth day, the closest we could get was 390 yards. I said a quick prayer, held my crosshairs two feet over his shoulder, and gently squeezed the trigger of my .260. I got the first of my four!
Two months later, in snowy October, my dad and I were on our way to get the Rocky Mountain bighorn with Dustin Roe (Backcountry BC and Beyond). After the nine-and-a-half mile walk in, we made a cozy campfire and ate some Mountain House, which would be our dinner for the next 10 days. The next morning we were greeted with fog. And to our surprise, we were fogged in for the next three days. Instead of keeping up on my two weeks' worth of make-up homework, I was trying to keep warm, while my guides were trying to keep me entertained. We shared stories of our past and were coming up with scenarios for this hunt. On day four, the fog finally cleared in late afternoon. We were blessed with a couple hours of clear skies. My guides spotted three rams, three miles away. This brought my hopes up when they said we would go after them the following morning!
We woke early, packed gear and hit the mountain. We spotted my ram a mile away and decided to make a "go" after him. The last quarter mile seemed like hiking the Eiffel Tower; it was vertical the whole way! When we reached 150 yards, I settled into the prone position and tried to calm my nerves. I was anxiously waiting, while shivering in the cold, my sweat freezing to my skin, in the 35-mile-per-hour winds. I waited for the sheep to stand up and turn broadside. Dustin was bugling like an elk, chucking boulders down the mountain and doing what any good guide would do to get that ram to stand up, but not run off. Finally after 10 minutes, the ram
stood up. I put my crosshairs right behind the shoulder and pulled the trigger. The video shows the first shot hitting behind the shoulder in the heart. The ram was dead but didn't know it. My next shot was high on the same shoulder, he turned, took a step, then tumbled a thousand yards down the mountain. We had a long hike back to Spike Camp, then the following day I packed my ram and over half my body weight nine and a half miles back to the truck. Our guides were proud of my shooting and my no-quit attitude. Yes, my dad was proud, too. That was a long dang hike out, but when you have a sheep on your back, it is worth it.
Leaving the Colorado snowy weather was okay with me in January, because I was on my way to Mexico for the third sheep! My dad, Dustin, and I followed three Mexican guides, who did not speak a lick of English, six miles to our base camp for the next week of desert bighorn hunting The only word I knew besides yes, was ram, or borrego in Spanish. Despite the language barrier, I became close with my guides. Instead of ignoring the Gringos, they communicated with us to the best of their abilities.
After the hike in, we were greeted with warm tortillas, fresh beans and delicious meat (which to this day I still do not know what it was.). On the second day of hunting, the men were relaxing while I was working on my Algebra, we spotted a ram, 400 yards away! Dustin ordered me to grab my gun and follow him! We were running full speed up the mountain, dodging rocks and thorny bushes; it seems like every bush in Mexico has stickers or thorns. We peeked over the ridge, and there he was, just 250 yards away. Again, I got in the prone position, but this time I bellied down right in a mound of cactus. My ram stood up, and I gently squeezed the trigger. After running 30 yards, the ram collapsed. Now I had my third ram. Our lead guide, Juan Antonio Aguilar announced with a great big hug "NOW, WE ARE AMIGOS!"
In August 2010 I will be going for my fourth and final ram, the Stone sheep, in the Yukon. If I can get the last sheep, then I will be the youngest woman in the world to get my Grand Slam, at age 15. To prepare for this upcoming hunt, my dad and I are going on several "death marches" or in most people's eyes, backpacking trips and shooting. In case you do not know what a death march is: it's hiking with my dad and only the Lord knows when it's going to start, and where it's going to end!
To read more about Sara, see http://www.dailycamera.com/ci_14899346?source=most_emailed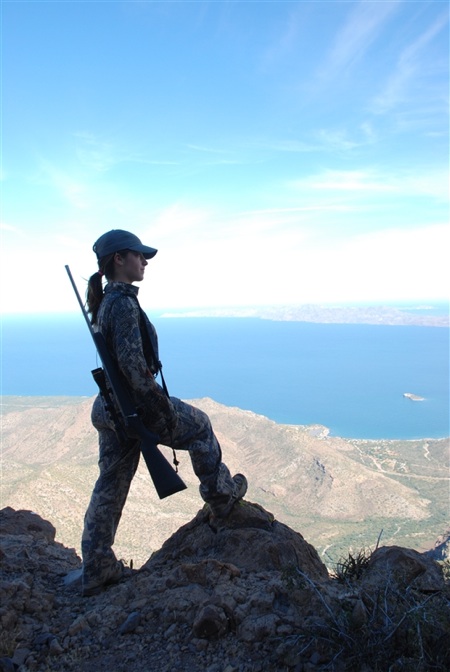 About The WON

The Women's Outdoor News, aka The WON, features news, reviews and stories about women who are shooting, hunting, fishing and actively engaging in outdoor adventure. This publication is for women, by women. View all posts by The WON →
The Conversation