2010 Women's National Trap Champion Rachel Heiden
Meet Rachael Heiden; not only your 2010 National Champion in Women's Trap, but also the gold medalist in Women's Trap at this year's National Junior Olympic Championships. Heiden (Clinton, Mich.) was also the 2009 NJOSC gold medalist as well. Heiden began shooting through her local 4-H Club and the Scholastic Clay Target Program.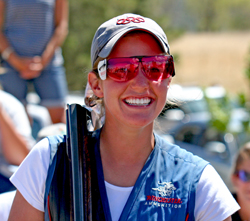 Heiden is currently a student at the University of Colorado at Colorado Springs. She is majoring in Human biology and expected to graduate in 2012. When she is not training at Fort Carson, Heiden can be found downhill skiing, playing guitar and piano, and studying to complete her degree. She shoots a Perazzi Mx8, loaded with Winchester AA. Heiden also hunts whitetail deer, pheasant, and geese.
Heiden sacrificed a life at home for her Olympic dreams. She moved from Michigan to Texas to take advantage of daily training because there wasn't a place for her to shoot International Trap in Michigan. She advises juniors to, "Take full advantage of your opportunity, because you never know where it will take you!" Heiden is now a Resident Athlete at the Olympic Training Complex in Colorado Springs. She will be competing for the USA in the Junior Women's Trap event at the World Shooting Championships. Good luck Rachael Heiden!
Dallas Safari Club (DSC) is a proud sponsor of USA Shooting's Junior Team to the World Shooting Championship Team in Munich, Germany. An independent organization since 1982, DSC has become an international leader in conserving wildlife and wilderness lands, educating youth and the general public, and promoting and protecting the rights and interests of hunters worldwide. For more information on DSC visit www.biggame.org.
About The WON

The Women's Outdoor News, aka The WON, features news, reviews and stories about women who are shooting, hunting, fishing and actively engaging in outdoor adventure. This publication is for women, by women. View all posts by The WON →
The Conversation