Bonnie Holding receives Third Annual L.L. Bean Outdoor Heroes Award
Casting for Recovery (CFR), a national, non-profit support and educational program for women Casting for Recovery is proud to announce that long-time volunteer Bonnie Holding was the recipient of the Third Annual L.L. Bean Outdoor Heroes Award at a ceremony held at Evergreen Campgrounds in Solon, ME on June 18, 2010. Each year L.L. Bean recognizes individuals who are helping to preserve wild spaces and promote outdoor recreation through his or her contributions to a qualifying nonprofit organization.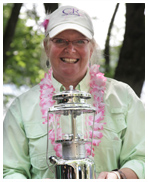 Executive Director Lori Simon, who nominated Bonnie for the award, noted that "Bonnie's strong belief in the healing qualities of an outdoor experience, and her commitment to women's health issues, brought her to Casting for Recovery. Her passion led her to volunteer to launch the first CFR retreat serving the women of Maine in 1999, only four years after the organization came into being, and her commitment to the powerful impact that the CFR program has on the lives of those we serve has not only been an admirable record of service, but has continued to inspire others to get involved and help 'spread the ripples'."
Presenting the award to Bonnie at a gathering of CFR volunteers, staff, past participants, family and friends was Mike Gawtry, L.L. Bean Hunting and Fishing Product Line Manager. He noted that as CFR refers to the "ripple effect," the L.L. Bean award hopes to lend a "shining a light" on heroism so quiet that it escapes attention. For information on the Outdoor Hero Award, go to http://www.llbean.com/outdoorsOnline/conservationAndEnvironment/outdoorHeroes.html .
About Casting for Recovery
Casting for Recovery (CFR) is a national organization that supports women recovering from breast cancer through a program that combines fly-fishing, counseling, and medical information. Casting for Recovery's two-and-a-half day retreats are offered at no cost to participants. Since 1996 CFR has served more than 4,000 breast cancer survivors, with the help of 1,500 volunteers. Fly-fishing may appear to be the topic of the day, but helping survivors is the underlying focus of all we do. A complete listing of retreat locations and service areas is featured at www.castingforrecovery.org.
Casting for Recovery retreat programs are offered at no cost to the participants. Numerous medical and psychosocial professionals and institutions consider Casting for Recovery one of the leading programs providing support for women with breast cancer. CFR has also inspired independent programs serving women in New Zealand, Canada, and the U.K./Ireland.
Casting for Recovery is supported by generous donations from individuals, foundations, and corporations. CFR's leading national sponsor is The Hartford (www.thehartford.com), a Fortune 100 company that is one of the nation's largest financial services and insurance companies and a leading provider of investment products, life insurance and group benefits; automobile and homeowners products, and business property and casualty insurance; national support is also provided by Brookdale Senior Living – West Division (www.brookdaleliving.com), whose mission of enriching the lives of those they serve with compassion, respect, excellence, and integrity is the source of their strong support for CFR; and Under Armour® (www.underarmour.com), a leading developer, marketer, and distributor of branded performance apparel, footwear, and accessories, whose "Power In Pink" program is an effort to help educate women about the important link between physical activity and winning the battle against breast cancer.
Casting for Recovery is a 501(c) (3) non-profit organization. To arrange for an interview with local volunteers, or for more information, call 802-362-9181. You can also visit our website, www.castingforrecovery.org.
About The WON

The Women's Outdoor News, aka The WON, features news, reviews and stories about women who are shooting, hunting, fishing and actively engaging in outdoor adventure. This publication is for women, by women. View all posts by The WON →