Cooking Wild debuts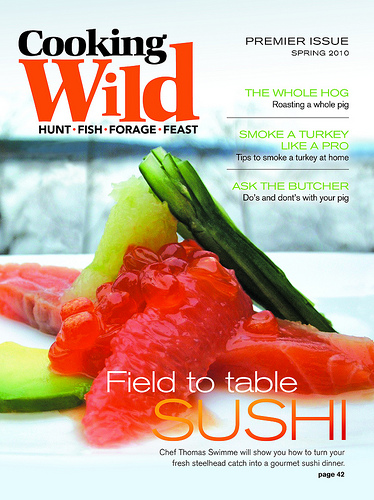 (July 20, 2010, Sacramento, CA) – Donald Publications announced today that the first edition of Cooking Wild – Hunt, Fish, Forage, Feast, is now available. Created to bridge the gap from the field to the table, each issue will cover things important to the food-focused outdoors person — hunters, anglers and foragers alike. Subscribe today, get the summer issue mailed in hardcopy and go online to download the first issue.
Cooking Wild Magazine is dedicated to helping improve and expand the wild cooking arsenal of home chefs everywhere. This new quarterly printed magazine will be loaded with tips, techniques and recipes from experts and home chefs from across the country. Available nationwide, for a limited time interested subscribers can get the first issue free when they sign-up for the year.
For more information and to subscribe risk free, visit them online at www.cookingwildmagazine.com.
Sneak Peak
Hank Shaw, two-time nominee of the James Beard Award for his blog Hunter Angler Gardner Cook is a contributing writer. Below is a sneak peek of his article and recipe in the spring issue of Cooking Wild magazine.
"Let's face it: Wild turkey legs, wings and thighs can be unbearably tough, and the tendons are often as tough as bone. The answer? Braise them. For a long, long time. What better way to do it than use the Mexican carnitas method? You brown the meat, then simmer it, uncovered, in a flavorful broth until the water evaporates before browning it again. There's a reason it sells out at Chipotle every day.
If I can give you one piece of advice here, it is to take your time. Turkey will get rubbery before it submits and becomes smooth and luscious. If you need more water, add more water. This recipe will require at least three hours of your time, maybe more if you are cooking an old Tom. Be patient. It's worth it."
Wild Turkey Carnitas
Ingredients:
Legs, thighs and wings from one wild turkey
Kosher salt
5 tablespoons lard or olive oil
1 tablespoon juniper berries
1 tablespoon black peppercorns
1 tablespoon coriander seed
1 tablespoon cumin seed
1 tablespoon oregano
1 small cinnamon stick
2 cloves
3 dried small chiles, such as an arbol
3 bay leaves
1 tablespoon honey
Juice of half an orange
1. Remove the skin from the turkey; save it to make cracklins, if you wish. Debone the turkey leg. This is not required, but it the meat cooks better when deboned.
2. In a large Dutch oven or large lidded pot, heat 3 tablespoons lard over medium heat. Salt the turkey and brown well. Do this in batches and take your time.
3. Pour in the herbs and spices and enough water to come up about 2/3 of the meat in the pot. Cover and simmer for 2 hours.
4. Turn the meat over and bring it to a simmer — uncovered this time. Simmer for 1 to 2 hours, turning every half hour. Let the liquid boil down. You will get a sense of how done it is when you turn the meat. You want it to be practically falling off the bone.
5. When it is tender, remove from the pot and let it cool. Shred with two forks or your fingers.
6. Add 2 tablespoons of lard to a frying pan and brown the meat as much as you like; I like a mix of soft and crispy. At the very end, drizzle in about a tablespoon of honey and the juice of half an orange.
7. Serve any way you like it: Tacos, burritos, sandwiches, ravioli filling, even as a topping for rice.
Serves 4–6
###
Sarah Swenty
Associate Editor
Cooking Wild Magazine
530-665-3310
Sarah@cookingwildmagazine.com
Www.cookingwildmagazine.com
About The WON

The Women's Outdoor News, aka The WON, features news, reviews and stories about women who are shooting, hunting, fishing and actively engaging in outdoor adventure. This publication is for women, by women. View all posts by The WON →