Gear Court: No Slip-and-Falls with the Arks Outdoors Leather Sandals

Two brothers founded Arks Outdoors, LLC, with one goal in mind; quality footwear for the outdoor enthusiast. The company started selling their footwear products when the brothers were still in college. Since that time, Arks Outdoors has moved up in the industry as a company with an outstanding line of footwear ideal for any outdoor person. The company not only has an exceptional line of boat shoes, it is now marketing quality sandals for men and women.
Arks Outdoors leather sandals are made from premium full-grain leather built on a non-marking, slip-resistant EVA outsole. The sandal is designed with a form-fitting Rubbertex mid cushion with built-in arch support. The sandal is superbly designed with quality materials and workmanship for long-lasting wear.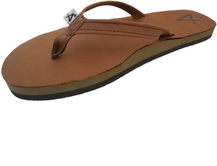 The Arks leather sandal is simple enough to wear casually with outdoor wear, yet eloquently fashioned that they can be worn with finer day wear. Lightweight sandals constructed for extended wear with the features found in Arks products have been hard to find until now.
Arks didn't stop at their leather sandal. This month, Arks Outdoors will release their NECOprene sandals in Mossy Oak. The new NECOprene sandal is designed with all the great features of the leather sandal, but made of a neoprene water-resistant footbed. The added benefit of the slip-resistant sole makes the Arks NECOprene sandal ideal for boating, beach wear or wearing around pools or other areas where water may be present.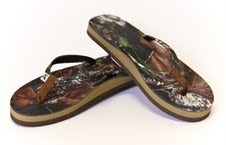 The Arks Outdoors leather sandals are currently available and has a MSRP of $34.95 and the MSRP for Arks NECOprene sandals is $29.95, with the release date scheduled for the latter part of July 2010. You can see the entire line of men and women's Arks Outdoors footwear at http://www.ArksOutdoors.com.
This product was received free of charge for review.
About The WON

The Women's Outdoor News, aka The WON, features news, reviews and stories about women who are shooting, hunting, fishing and actively engaging in outdoor adventure. This publication is for women, by women. View all posts by The WON →