Glenn Wheeler gets 'hyper' about focus
During a marathon photography trips a few years ago I joined a couple of my photography buddies in photographing Arches National Park, Utah, Upper Antelope Canyon near Page, Arizona, Monument Valley, Utah and more. The culmination of that trip was when we met several other photographer friends in Ouray, Colorado to photograph Alpine wildflowers.
This particular image (my second most popular) was shot at about 11,000 feet elevation in Yankee Boy Basin, an area that I had wanted to visit and photograph for many years. I wanted the columbine, paintbrush and various other wildflowers, along with the rock, to be in sharp focus in order to "anchor" the image. But, I also wanted the mountains in the distance to be in focus to show the expanse of the scene. In order to accomplish all that, I had to use a technique called hyper-focus. Hyper-focus basically refers to having all of the desired elements in an image in sharp focus.
Determining how to set your camera and lens for hyper-focus requires a complicated mathematical equation – one that is way over my head. Luckily, hyperfocal charts are readily available online. These charts allows you to determine the focal length you want to used to get the desired angle of view, then set your aperture (f/stop) to a desired setting then use the chart to determine where to focus. It's a little confusing at first, but once you get the hang of it, it's a tool you will probably often use in your landscape images.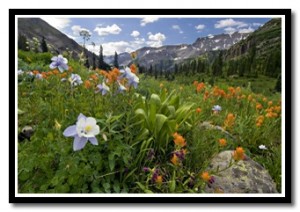 Incidentally, when I got the e-mail from Barb asking about featuring this image, I was in a hotel in Colorado headed back to the same place to shoot again. If you have never witnessed the wildflower spectacle in Colorado you simply don't know what you are missing. I was so awed by it the first time I saw it that I called my wife and said "I HAVE to bring you and the kids here to see this!" Now, Barb is featuring this image as I am headed up the mountain to make more. The third week in July is usually the best bet.
Technical info: Canon 1D Mark II camera, Sigma 17-35mm lens at 17mm, Delkin card, Gitzo tripod, polarizing filter. ISO 100, 1/10th second at f/16. Shot July 23rd.
Too see more of Glenn's work online: http://glennwheeler.com/galleries.html
Glenn Wheeler is an award-winning professional photographer, writer, PR consultant, lecturer and workshop teacher from Harrison, Ark. Glenn's work has appeared on the covers and pages of numerous magazines from Arkansas Wildlife and The Ozarks Mountaineer to Log Home Design, Bugle and Turkey Call. His work has also been featured in books, calendars, postcards, websites, newspapers, national ad campaigns, DVD covers, brochures, posters and more. His fine art prints grace the walls of homes and offices in many states and on two continents.
Glenn teaches photography and PhotoShop courses in settings from college classrooms to field workshops in several states. His Photoshop, speaking and teaching skills are often called upon for seminars to editors, photographers and writers for some of the top outdoor media outlets in the country, and his inspirational slideshows are shown to groups large and small. He has worked side by side with several top-notch professional photographers, writers, TV personalities and industry leaders and is honored to call them friends.
Glenn is a member of the North American Nature Photography Association (NANPA), a member of Canon's Professional Services and is currently serving on the Board of Directors of the prestigious Southeastern Outdoor Press Association (SEOPA). Glenn also received the SEOPA President's Award for Outstanding Service in 2007, one of the organization's highest honors. He is a charter member and past president of the Photography Club of the Ozarks.
Also called upon as a speaker, Glenn has been invited to speak to photography groups, professional organizations and communities from Alabama to Iowa and from Arkansas to New Jersey.
Glenn has published two books, Swimming Holes of the Ozarks and Arkansas!, the latter a limited-edition coffee table photo book. He presently has two more books in the works. Glenn makes his home near Harrison, Arkansas, not far from the Buffalo National River. His wife of 17 years, Stacey, and their two wonderful children, Elizabeth, 14 and Zane, 6, keep him out of trouble.
Learn more about Glenn and his work at www.GlennWheeler.com.
About The WON

The Women's Outdoor News, aka The WON, features news, reviews and stories about women who are shooting, hunting, fishing and actively engaging in outdoor adventure. This publication is for women, by women. View all posts by The WON →
The Conversation