Guru Huntress: "Where is the Guru Huntress?" Look for my truck … coming to a town near you? You could be a winner!!

"Where is the Guru Huntress?" The Women's Outdoor News is sponsoring a contest and a lucky winner will walk away with a neat prize package. Just look for the Guru Huntress traveling to a hunt or at your local deer show and snap a picture of my truck on the road, in the parking lot or anywhere you find it.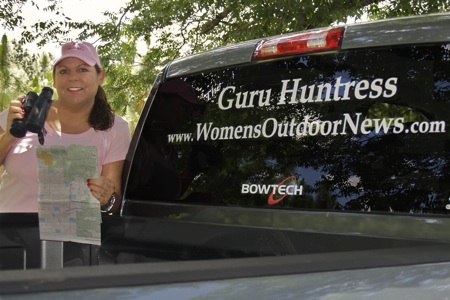 Submit the picture to the WON using the easy "Submit" button from the menu. Tell the WON where you saw the Guru Huntress and tell us what you like to do in the outdoors or what you like to hunt and even send us a picture of you in the field doing what you love, a harvest photo, or a picture of you standing beside the Guru Huntress' rig.
WON readers will have many opportunities to snap a photo of the Guru Huntress' rig this fall. Look for the Guru Huntress as she travels to Florida, Alabama, Arkansas, Kentucky, Minnesota, Iowa and Kansas in pursuit of fall game. Or you may see the Guru Huntress traveling between deer shows in various states. Look for her at the Quality Deer Management Association's convention on July 10-11.
Be the FIRST to post a photo and you will win a special prize package put together by the Guru Huntress herself of great gear to use on the hunt. It is that simple: Snap a picture with a camera or your cell phone and submit it to the WON with some information about yourself and you could be a winner.
Don't forget that you may read about the Guru Huntress' antics at her blog, Shenanigans From The Field: http://njadams1.wordpress.com/
About The WON

The Women's Outdoor News, aka The WON, features news, reviews and stories about women who are shooting, hunting, fishing and actively engaging in outdoor adventure. This publication is for women, by women. View all posts by The WON →
The Conversation