My Job … My Outdoors: She's got 'ammo & attitude'

You can take the woman out of the business world, but you can never take the business acumen out of the woman. Meet Becky Lou Lacock, who came to love the outdoors because of her involvement in a Becoming An Outdoors-Woman event 10 years ago, and wonders what she ever did before stepping outside! In fact, Becky Lou and five other women will debut in a new reality television series, Ammo & Attitude, on Versus on Aug. 1.
My Job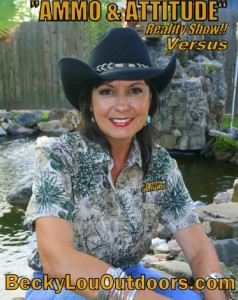 I don't have a "regular" job, I owned my own business, a gift and embroidery boutique for 18 years until I sold it, then accepted a position with Nextel Partners Communication as District Manager for southwest Louisiana and southeast Texas for two-and-a-half years until the Sprint merger. I am currently playing with a couple of booths I have at antique malls, and periodically filling in as "Temporary Girl Friday" for some businesses to help them out and have a little extra pocket change, but having had my own business for 27 years, and a strong entrepreneurial / adventurous spirit, I'm constantly looking for my next opportunity!
Having been introduced into the Outdoor Industry early 2009, on board with RealHuntersJournal.com in late 2010 as a field editor, I have been working with them on securing real down home stories from real down home hunters. With my passion for the outdoors, specifically hunting, I have had lots of opportunities to help promote outdoor activities and inspire some women to take it outdoors. I have also been encouraged to start a website so that I could share, by writing articles, as it is believed by many, anyone that likes to talk as much as I do, should be able to write some of that down! I have recently finished filming a reality show, Ammo & Attitude, of 11 episodes, with five other women, that will air on Versus beginning August 1. I survived, and had a lot of fun. Possibly this may help me in my efforts create my next job opportunity!
My Outdoors
I just love being outdoors!! I believe that I have always needed it, but didn't know it! I shot a shotgun for the first time in 2000, during a workshop, Louisiana Wildlife and Fisheries B.O.W program (Becoming an Outdoors Woman), and to my surprise, I LOVED IT! With proper instruction and under the right circumstances, along with sincere encouragement, it was a great experience, and gave me the confidence and inspiration that I needed!
I have been taking it outdoors ever since, and have realized that being outdoors, for any reason, is good for my health and my soul. I also know that there are many women out there that could really be enjoying the outdoors, but they are in the same situation as I before, and they lack the resources and encouragement that I have had. I really enjoy talking about all my experiences and inspiring others to give it a shot!
I have absolutely enjoyed shooting guns, and hunting has become a passion for me, which is hard for most of my friends and family to understand. What most people don't understand, is that it is not just about harvesting an animal from the wild, but for the "reason" it gives me to rise at 4 a.m., sit quietly in a blind for 4-6 hours and watch the wilderness and its creatures awake to a new day, observe all types of critters in their natural surroundings and also in the evening to watch the wilderness go to sleep … but then, I found that there are lots of nocturnal critters that roam all night long! The only thing I cannot embrace about being outdoors, is being outdoors deep in the woods in total darkness; but, I have talked to grown men that feel the same way. Their identities, of course, will be kept secret.
To follow Becky Lou's blog, go to beckylououtdoors.com.
About The WON

The Women's Outdoor News, aka The WON, features news, reviews and stories about women who are shooting, hunting, fishing and actively engaging in outdoor adventure. This publication is for women, by women. View all posts by The WON →
The Conversation