New Wiley X Black Ops collection reign is supreme
Wiley X® Eyewear has just introduced the newest way to rule in both fashion and performance — the Wiley X Black Ops Collection Reign™. The newest addition to Wiley X's wildly popular tactical-inspired collection, the unique Wiley X Black Ops Collection Reign is a tour de force — a powerful blend of high performance features that not only sets the bar higher — it blasts it into orbit.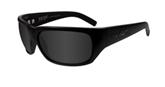 The sleek profile combines power and grace — with ANSI Z87.1 High Velocity Impact and High Mass Impact certification, this new line is tougher than any eyewear on the planet. In fact, Wiley X is the only premium performance sunglass company whose full line meets the ANSI Z87.1-2003 certification for safety. That means that the Wiley X Black Ops Collection Reign has been tested to withstand the impact of a .25" diameter steel ball fired at 150fps, and the weight of a 1.1lb. pointed projectile dropped from a height of 50". The entire Wiley X Black Ops Collection was developed for elite level military and law enforcement personnel, and delivers the company's famed High Velocity Protection™ (HVP™) in every feature, from the shatterproof Selenite™ Polycarbonate lenses to the special formulated T-Shell™ scratch resistant layer and 100% UVA/UVB protection.
Wiley X is a veteran owned and operated ISO 9001:2008 certified company that seeks to continually push the envelope in its own designs, trusted now for more than two decades by our armed forces and law enforcement communities. Now the new Wiley X Black Ops Collection Reign is a new proven performer in the renowned lines of eyewear trusted in some of the most extreme applications. The Wiley X Black Ops Collection Reign sports a wide temple design, and is engineered to fit medium to large head shapes to a "T". With smooth Smoke Grey lenses and a Matte Black frame, it's the new face of amazing looking stealth and protection.
To learn more about the new Wiley X Black Ops Reign™— or the company's full line of high performance eyewear — visit Wiley X Eyewear at 7800 Patterson Pass Road, Livermore, CA 94550 • Telephone: (800) 776-7842 • Or visit online at www.wileyx.com
Editor's Note: For hi-res images and releases, please visit our online Press Room at www.full-throttlecommunications.com.
About The WON

The Women's Outdoor News, aka The WON, features news, reviews and stories about women who are shooting, hunting, fishing and actively engaging in outdoor adventure. This publication is for women, by women. View all posts by The WON →