She knows why women fish …
Terri MacKinnon not only writes a blog about women and fishing, she has added a companion website. From how to find fish with a GPS to how to cook fish at a campsite to delving into the topic of "Why Women Fish," Terri enjoys the latitude that publishing a blog with universal appeal holds. Her purpose is to inspire women to catch the passion of fishing. For example, in her post "Why Women Fish," she tells the story of dating Andre (her husband now) and about their first time out fishing together.
"I'm going to teach you how to feed your family," he proudly told me. Fishing season opened a couple months later and he brought me to the annual weekend away with his fishing buddy to compete in the opening season derby. I'm not sure how thrilled his buddy was, but I guess it was better then being told that he was going to be completely left behind. We had a really good weekend and I was able to keep up with the boys and at some points I even out fished them. I knew then that I was definitely Hooked! And not only on my husband but on those fish.
You may follow her blog at http://womenfishing.blogspot.com/ and her website here.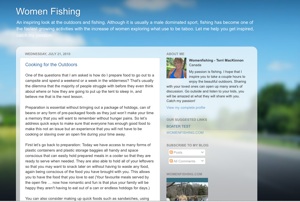 About The WON

The Women's Outdoor News, aka The WON, features news, reviews and stories about women who are shooting, hunting, fishing and actively engaging in outdoor adventure. This publication is for women, by women. View all posts by The WON →