She's ba-aack! The Hunter's Wife continues to humor us
She took a little hiatus from her blogging to clean her closets, and we know … we've featured her before in this section. She's just so good at what she does — and that is, makes us laugh at ourselves and forces us take a little look at some of the idiosyncracies surrounding the outdoor experience. For example, last year, when the local sporting goods store touted a contest for biggest antlers on a trophy, Jody Narantic, aka "The Hunter's Wife," wanted to enter her hubby's decoy. After all, none of them are alive, right?
And there's more … stories of her neighborhood, the ducks she tries to raise, the corn-fed deer in her own backyard, and this one below about her niece who calls a tackle box a "taco box." There's a reason this woman's blog gets more traffic than a lot of news and wire services out there.
People just like laughing at themselves (and others) and we think you'll like it too. Check out www.thehunterswife.net. Tell Jody we sent you.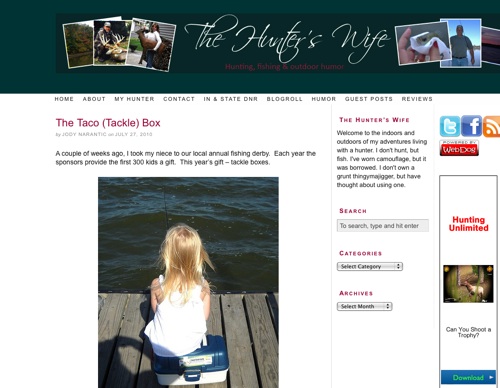 About The WON

The Women's Outdoor News, aka The WON, features news, reviews and stories about women who are shooting, hunting, fishing and actively engaging in outdoor adventure. This publication is for women, by women. View all posts by The WON →
The Conversation