Babbs in the Woods: Camo Gramma pays her first visit

I'm in love again. This time it's with two little girls that together don't even weigh five pounds: Velma and Bertha, my twin granddaughters who now lie in state-of-the-art incubators in a hospital too far away from my home.
I recently met them and touched them and told them about our upcoming adventures. And how did they react to their Camo Gramma's first visit? They each gained an ounce and pooped three times in 24 hours. Great stuff.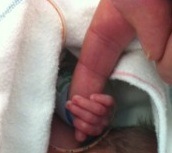 Their mama is an avid outdoorswoman who will have those girls in hiking boots as soon as they're walking. Their daddy, our son, also loves the outdoors and will no doubt have the patience of Job combined with the fact that these two will have him wrapped around their little fingers. I saw him hold Velma and then Bertha for the first time since they had been born. I hope to see both of these fine new parents with lots more firsts in their lives. ~Barbara Baird
About Barbara Baird

Publisher/Editor Barbara Baird is a freelance writer in hunting, shooting and outdoor markets. Her bylines are found at several top hunting and shooting publications. She also is a travel writer, and you can follow her at https://www.ozarkian.com. View all posts by Barbara Baird →
The Conversation