From Ablondandherboat:Day #1 of Ladies' fishing trip in Canada
Well, today's the day the ladies arrive. South Shore Lodge on Eagle Lake (Ontario, Canada) is hosting an all women's fishing trip.
I've been here a couple of days "pre-fishing" for the event. The lodge is located in the middle of Eagle Lake. It's a large Canadian shield lake – almost 70,000 acres – and rugged islands dot the waterscape.
Weather has been changing here. First day was post-cold front, windy and cold. But, sunshine and heat happened yesterday. Rain keeps looming on the forecast, and, as a fisherman, I welcome that because it seems to "ring the dinner bell" for big muskies.
Suffice it to say we are not going to lose any weight here. South Shore cooks up hearty breakfasts each day … followed by your choice of shore lunch (fresh caught walleye) or sandwich sack lunch, and homestyle dinners. The cabins are clean and cozy.
A wide variety of lodgings are available. I'm staying in one of the studio units. It's a cute little cabin with a bathroom, bedroom/dining/kitchen area, and little screened-in porch. Since the lodge is located on a point, almost all the cabins have a view of the lake.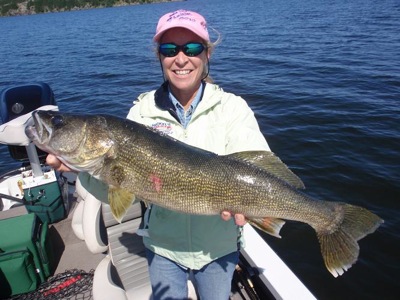 So far the walleye fishing has been downright phenomenal. Lots of numbers and several big 'eyes.
I caught my biggest walleye (while targeting them … I've caught bigger on musky plugs) a couple days ago. Was jigging a reef where we marked fish on our sonar. I was using a heavy jig tipped with a half a crawler. This 29″ fat beauty took the bait … and what a battle. I use 8# mono on a light spinning reel so one must play the fish and not try to horse that monster in.
Several of the ladies participating absolutely love to walleye fish so I know they'll be excited. Lodge owner Gord brought us out yesterday to teach me how to walleye fish using Lindy rigs. This is basically slow trolling a crawler. It took some time for me to be able to understand how to "feel the bottom" and how to jig the crawler harness instead of dragging it, but eventually I caught fish. The results were a fantastic shore lunch. Two frisky Canadian Jays joined us. These birds are very friendly and bold – taking potatoes right out of the frying pan!
The big muskies were shy the first couple of days, but have been showing up lately. Last night we had several follows from smaller muskies and one big girl (about 48″-49″) follow a bucktail, then miss two separate topwaters. But, I know where she lives now.
Well, off to fish for a couple of hours before the ladies arrive.
Come join us next year! In addition to the beautiful scenery and great fishing, Gord has set up casting contests and poker fishing … I know it'll be a blast.
Patricia Strutz
Info about trip on:
About The WON

The Women's Outdoor News, aka The WON, features news, reviews and stories about women who are shooting, hunting, fishing and actively engaging in outdoor adventure. This publication is for women, by women. View all posts by The WON →
The Conversation