Plano introduces Bone Collector edition protective cases
Two prominent and well-respected brands in the hunting sports industry, Plano® and Bone Collector™, have teamed to create the Bone Collector Edition of Plano storage cases.
The introductions include hard and soft gun cases, a bow case and a magnum field box.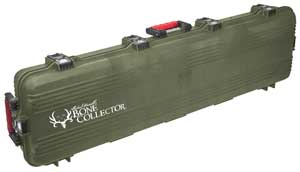 "The collaboration with Michael Waddell, Mr. Bone Collector himself, to develop this product line has been refreshing and rewarding," said Jesse Simpkins, vice president of marketing at the 78-year-old Plano Molding Co. "Michael literally grew up outdoors with many of our products, and he's as excited as we are to introduce this line of protective cases. Shooting-sports enthusiasts of all kinds will be pleased with this lineup."
"Traveling around the world like I do, I have to depend on protective cases to get my guns and bows to my destinations in top-notch shape," said Waddell, Bone Collector founder and co-host of the television show by that name. "I put great trust in Plano's quality products to take care of my gear; that's why I'm proud to put my name on this new Bone Collector Edition of Plano cases."
All Weather "AW" Cases
Three All Weather "AW" cases lead the new product offering, two for long guns and one for bows, each featuring Plano's proven Dri-Loc® rubber seal for watertight, airtight and dust-free protection of the contents inside. Also, each model comes with two packs of Inhibitor corrosion protection "chips," specially formulated rust preventatives that help protect metal parts on guns and bows while in their cases.
Of course, Plano's expertise in molded construction is obvious in all three AW models and provides the kind of backbone necessary to withstand the perils of outdoors and airline travel.
Model 108199 – click to view/download hi-res image
Model AW 108199 makes the most out of its concise footprint, measuring 54.25″ x 15.25″ x 6″ (closed), to accommodate two scoped rifles or a pair of shotguns. High-density foam in the lid and bottom afford padded protection on the inside, while six innovative dual-stage, spring-loaded latches assure this case stays closed and tightly sealed.
Four of the latches are located along the case's length to provide positive closure, and there's one latch each located at case ends. Two of the latches have key locks.
For carrying suitcase style, there's a large comfort-grip handle on the side. When it's time to roll, this case is ready to follow closely in your footsteps on dependable easy-glide wheels, using the other comfort-grip handle positioned on the end to tow it.
The AW 108199 is attractive and affordable, retailing for around $159.99.
Model AW 108429 is a single gun case fitting a scoped rifle or shotgun. It measures 46″ x 16″ x 5.5″ (closed). On the inside is high-density pluck foam, making it easy to custom fit the firearm to the case so that it nestles down perfectly into the protective foam layer. On the outside are five dual-stage spring-loaded latches: there along its length and one on each end.
This gun case retails for around $119.99.
The Plano Bone Collector Edition bow case is Model AW 108119. The case has the same extra-thick wall construction of the related gun cases, but also features Plano's patented PillarLock® system that affords additional case strength by providing strategically located crush-resistant support pillars.
The bow is securely nestled into the high-density foam padding on one side of the case to protect limbs and accessories by hook and loop tie-downs. On the opposite side of the case, an elastomeric arrow storage rack accommodates up to 12 standard or carbon fiber arrows. Additionally on the arrow side, an optional mounting bracket allows for the storage of a fully loaded quiver.
Accessory tie-downs are included for securing other items inside the case, ranging from releases to range finders.
The bow case is kept closed by lockable, spring-assisted dual-stage latches.
The Model AW 108119 bow case retails for about $114.99
Soft Gun Cases
As for soft gun cases in the Bone Collector Edition, there's one for rifles and one for shotguns. Both versions feature tough and durable 600D Nylon shell exterior and a knit lined high-density foam interior. And both have a muzzle protector on the barrel end, interior tie-down straps, and three exterior pockets. The cases are attractive in RealTree™ AP camo with black accents.
Model 54582 is the rifle case. It is designed to fit scoped rifles up to 45″ in length. The rifle case sells for about $39.99.
The shotgun version is Model 55452. It accommodates shotguns up to 51″ long. The shotgun case retails for around $39.99.
Magnum Field Box
Rounding out Plano's Bone Collector™ Edition is the Magnum Field Box Model 1812-19. The 17″L x 10.38″W x 13″H box comes with two removable dividers and a lift-out tray. There's also a storage area with exterior access in the box's lid.
Featuring Plano's molded construction, this field box is much lighter and easier to open and close than the metal military boxes of old, but it is extremely durable and just as effective in keeping contents protected from the elements.
This Magnum Field Box retails for around $29.99.
Whether your choice of activity requires gun cases, bow cases, field boxes, or all of the above, you, like Michael Waddell, can travel confidently knowing your gear will go where you do in the finest of condition, thanks to the two respected names on their covers – Plano and Bone Collector.
Bone Collector is a registered trade mark of Michael Waddell LLC Official Licensed product of Michael Waddell's Bone Collector™. This product manufactured and distributed by Plano Molding Co. www.PlanoMolding.com.
About The WON

The Women's Outdoor News, aka The WON, features news, reviews and stories about women who are shooting, hunting, fishing and actively engaging in outdoor adventure. This publication is for women, by women. View all posts by The WON →