Get outdoors on National Hunting and Fishing Day … go to an NWTF event
EDGEFIELD, S.C. — On Sept. 25, millions of Americans will celebrate some of the nation's proudest traditions in the field and on the water during National Hunting and Fishing Day.
The official "holiday" is the perfect chance for America's more than 38 million hunters and anglers to get outside and hunt or fish and invite someone new to experience the outdoors. To help introduce newcomers to outdoors, chapters from the National Wild Turkey Federation will host 39 outreach events across the country on National Hunting and Fishing Day and more than 125 events throughout the fall.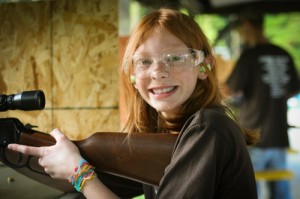 "Part of what makes hunting, fishing and other outdoor activities so important to millions of Americans is the fact that anyone can participate," said Tom Hughes, NWTF assistant vice president of education and outreach. "Age, sex or skill levels don't matter in the great outdoors. Our outreach programs are designed to help anyone and everyone try all sorts of outdoor activities."
Women in the Outdoors, JAKES (Juniors Acquiring Knowledge, Ethics and Sportsmanship) and Wheelin' Sportsmen provide outdoor opportunities for women, youth and people with disabilities respectively. Throughout the year, local NWTF chapters host hundreds of events nationwide that offer participants countless outdoor recreation opportunities.
From hosting hunts for people with disabilities, to training women in self-defense, archery and more, to educating youth about wildlife and conservation, the outreach programs are vital to preserving America's hunting heritage.
Diverse groups of American men and women enjoy hunting and fishing and are valuable leaders for conservation and contributors to the economy. Some interesting facts about hunters and anglers from the official website for National Hunting and Fishing Day include:
Americans hunt 228 million days per year and fish 557 million days per year
Excise taxes paid on firearms, ammunition and archery equipment benefit every state and have generated approximately $5.6 billion for wildlife conservation since 1939
Hunters and anglers support more jobs nationwide than the number of people employed by Wal-Mart
According to research, 72 percent more women are hunting with firearms today than just five years ago
More than one quarter of all anglers are female
To find an NWTF outreach event in your area, visit www.nwtf.org and find your state in the top right corner or call (800) THE-NWTF.
Founded in 1973, the NWTF is dedicated to the conservation of the wild turkey and the preservation of our hunting heritage.
Through dynamic partnerships with state, federal and provincial wildlife agencies, the NWTF and its members have helped restore wild turkey populations across the country, spending more than $331 million to conserve 15.9 million acres of habitat for all types of wildlife.
The NWTF works to increase interest in the outdoors by bringing new hunters and conservationists into the fold through outdoor education events and its outreach programs – Women in the Outdoors, Wheelin' Sportsmen, JAKES and Xtreme JAKES.
About The WON

The Women's Outdoor News, aka The WON, features news, reviews and stories about women who are shooting, hunting, fishing and actively engaging in outdoor adventure. This publication is for women, by women. View all posts by The WON →