New and improved Skull Hooker brings together stylish design with the pinnacle in function and strength
When it comes to designing innovative, functional and supremely stylish trophy European mounting brackets, the team at Skull Hooker™ continues to set the industry bar by developing even more new ways to constantly evolve its manufacturing process and enhance its already-popular Skull Hooker designs. Now, the newest Skull Hooker European mounting brackets will deliver the same professional-finish and elegant design hunters have come to love with unmatched levels of functionality and strength.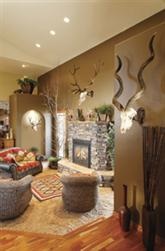 The all-new Skull Hooker is like no other European skull-mounting bracket on the market with a myriad of ingeniously designed features sure to resonate with passionate hunters everywhere. Two available sizes, the "Big Hooker" and the "Little Hooker" make it easy to beautifully display just about any sized animal. The "Big Hooker" is designed to support larger game including elk, bison, moose, caribou, grizzly/brown bear, domestic steer and other exotic larger game such as kudu, stag, cape buffalo, etc. While the "Little Hooker" is great for showcasing smaller game including any deer species, black bear, cats, antelope and exotic smaller game such as gazelle, impala, and more. Plus, both sized brackets are fully adjustable to accommodate most any species' horns or antlers, providing a natural upright look — perfect for creating a sportsman's dream décor for any home or office space.
The elegant and versatile new Skull Hooker is incredibly easy to install. Unlike competitor brackets, the Skull Hooker requires no drilling into the skull thanks to its patent-pending prong system, which simply and securely slips into the natural holes and crevices inherent in the back of all skulls. Plus, the bracket's mounting arm ingeniously swings both right and left, giving sportsmen the versatility to display their trophy at any angle and location. And thanks to the company's newest manufacturing process, the "Little Hooker" will now incorporate a pinned adjustability feature for an even stronger hold — completely eliminating any possibility that larger heads will slip or not hold properly.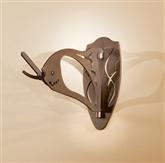 The brackets are available in a stylish, powder-coated Graphite Black or a slick Robust Brown finish that not only looks great, but also ensures the bracket is so durable, it can even be displayed outdoors. Even with all of these innovative and bold design features, the new and improved Skull Hooker is incredibly affordable (the "Little Hooker" has a suggested retail price of $39.95 and the "Big Hooker" has an incredible MSRP of $79.95).
All Skull Hooker products are proudly made in the U.S.A. For more information on the stylish and elegant Skull Hooker European mounting system, contact: Skull Hooker at P.O. Box 257, Klamath Falls, OR 97601 • Phone: 541-884-3177 • or visit online at www.skullhoooker.com.
Editor's Note: For hi-res images and releases, please visit our online Press Room at www.full-throttlecommunications.com
About The WON

The Women's Outdoor News, aka The WON, features news, reviews and stories about women who are shooting, hunting, fishing and actively engaging in outdoor adventure. This publication is for women, by women. View all posts by The WON →