New youth shooting program unveiled by NWTF
EDGEFIELD, S.C. — The National Wild Turkey Federation is proud to announce a new youth shooting sports program, made possible in part by a generous donation from Larry and Brenda Potterfield, founders and owners of MidwayUSA in Columbia, Mo.
The program will present opportunities for youth ages 17 and under to try target shooting, sporting clay shooting and shotgunning in a safe, fun environment. The NWTF aims to triple the annual number of youth shooting participants at its JAKES outreach events – from 50,000 to 150,000 youth – by 2014.
"Thanks to the generosity of Larry and Brenda, more young people will have the chance to try shooting sports, and may discover a passion that they will enjoy for the rest of their lives," said George C. Thornton, NWTF CEO. "This program will be a step toward solidifying the future of shooting sports in America."
Studies have shown that participation in sport shooting is declining, which is mirrored by a decline in hunting participation. Both declines are a growing concern for state fish and wildlife agencies, non-profit organizations and conservationists because a large percentage of conservation projects are funded through the taxes on firearm sales and ammunition.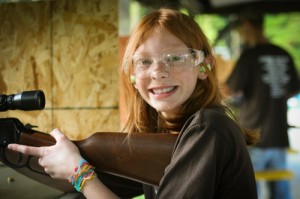 The NWTF is helping to counteract this trend by recruiting and retaining youth hunters, shooters and conservationists through its JAKES (Juniors Acquiring Knowledge Ethics and Sportsmanship) outreach program. Local NWTF chapters partner with various non-profit organizations, and state and federal agencies to conduct field days across the United States and Canada that introduce youth to the outdoors.
The JAKES program is NWTF's education and outreach program for youth 12 years old and younger, while Xtreme JAKES is for teens ages 13 to 17. NWTF local chapters host approximately 1,000 JAKES and Xtreme JAKES events each year for more than 75,000 kids.
"This exciting program will give NWTF volunteers throughout the nation more opportunities to get kids outdoors and help them enjoy shooting sports," said Mandy Harling, JAKES program manager.
In the first year of the new youth shooting sports program, the NWTF will provide fully equipped shooting trailers for Florida, Georgia, South Carolina, North Carolina and Virginia. More trailers will be purchased in ensuing years for additional regions of the country. Trailers will be available for use through state agencies and NWTF state chapters. They will come equipped with everything needed to set up a safe airgun shooting range at any youth event, including pellet guns, ammunition, safety glasses, hearing protection, targets and pellet traps.
"NWTF chapters and grassroots members will help identify and coordinate events, while our organization will continue to partner with state wildlife agencies to make trailers available to other organizations such as Boy Scouts, Girl Scouts, FFA, 4-H, Trailblazers, Ducks Unlimited, Pheasants Forever, Kicking Bear, and Boys and Girls Clubs," Harling said. "We'll also create standalone youth shooting sport events or expand local, regional and national sporting clay divisions to include youth divisions."
For more information about the program or to participate, contact Mandy Harling at (803) 637-7550 or mharling@nwtf.net.
About The WON

The Women's Outdoor News, aka The WON, features news, reviews and stories about women who are shooting, hunting, fishing and actively engaging in outdoor adventure. This publication is for women, by women. View all posts by The WON →