Gear Court: Sleeping in three seasons…Reviewing the Suisse Sport Adult Adventurer Mummy bag
I ordered the Suisse Sport Adult Adventurer Mummy sleeping bag off Amazon for the ridiculously good price of $34 when I wanted a lighter bag for backpacking. Wow! — was the first word that came to mind when I took this bag out of the box. It measured 12 inches by 7 inches and was under three pounds. No way was this going to keep me warm. I was wrong.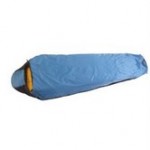 This little bag fit beautifully into my backpack. When I read some of the reviews, there was one that said the owner was 200 pounds and he still fit in the bag. I was little skeptical about that. I'm a petite 5' and it was just about right. I think I would have felt claustrophobic in it if I were much bigger.
The bag is listed at 30 degrees, but that really is pushing the minimum. I used it in Colorado where the low hit 22 degrees and I added a fleece liner. The liner still felt pretty good when temperatures hit 34 at night. Adding the liner increases the weight, but together, liner and bag still weighed less than my old bag.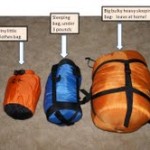 Here's the specs listed by the site.
Measures 29.5 by 84.5 inches (W x L) when open, designed for size- and weight-conscious hikers
Compresses down to 12 x 7 x 7 inches in included stuff sack
100-percent polyester ripstop linings; double-layer construction
700-gram Micro Tekk.7 microfiber insulation; full chest baffle
Draft tube and utility pocket; weighs 2.9 pounds in the stuff sack
Even in the colder temperatures, this is still my go-to bag because of its size. When we're camping rather than backpacking, I still like to limit my gear to whatever will fit in a pack.
For a woman's bag, I don't think this bag can be beat for weight, size or price.~Traci Schauf
About Traci Schauf

Traci Schauf ia a blogger, a blonde, a bookphile and outdoor obsessed. She contributes "The Happy Camper" to The WON. She also hosts her own daily blogs about her family and outdoor life. View all posts by Traci Schauf →
The Conversation