The Surestrike Laser Training System: Laser ammo takes the dry out of dry-fire training
GREAT NECK, NY (October 6, 2010) Laser Ammo Ltd. ("Laser Ammo"), manufacturer of the patent pending SureStrike™ dry fire system, provides the world's safest and most cost-effective laser marksmanship tools that improve skill while reducing training expense.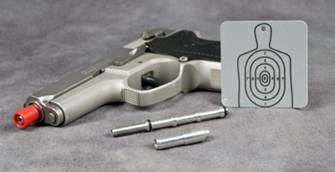 SureStrike transforms any fully operational pistol into a laser emitting dry-fire training weapon within a few seconds. The SureStrike has dimensions similar to those of a standard ammunition cartridge and is simply loaded into the weapon's chamber through the breech, then held in place with a safety pipe and nut.
Activated only by the firing pin strike, the SureStrike emits a microprocessor controlled, eye-safe laser pulse, or a "shot" of red light, which simulates the point of impact where a bullet fired from the pistol, would have struck. This immediate feedback results in rapid self correction and positive reinforcement.
For more information, contact:
John Fletcher
Marketing Manager
Laser Ammo Ltd.
912-480-0248
Laura Burgess
PO Box 13978
New Bern, NC 28561
P: 252-288-5805
F: 252-288-5806
Cell: 603-682-3316
View Press Kits Live
Sign up for our Email Newsletter
Catch up with LB Marketing's Blog
About The WON

The Women's Outdoor News, aka The WON, features news, reviews and stories about women who are shooting, hunting, fishing and actively engaging in outdoor adventure. This publication is for women, by women. View all posts by The WON →