Gear Court: Redington's Chena River Waders … no leaky vessel
This year I was given a pair of Redington's Women's Chena River Waders to try out. The Chena River Waders are named after the famous Arctic Greyling fishery in Alaska. The Chena waders retail for $179.95, and with some waders retailing for upwards of $400, these waders were economically priced.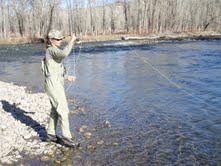 I tested these waders starting mid-summer this year through the present. The Chena waders have many well thought-out features, including a waterproof zippered front pocket that is a nice size for storing items. I use it for leaders, dry fly treatments, my camera, and even smaller fly boxes. Behind the pocket is a fleece lined hand-warming compartment. You can put a hand warmer in the external zippered pocket to warm the fleece lined compartment on extra cold days. I am excited to try out this feature this winter at the Catch and Release area on the Taylor River; one of the coldest areas I have fished.
These waders are constructed from high density 4-layer Red.Storm™ waterproof/breathable Taslan™. They don't have a seam on the inside of the leg because seams on the inside of the leg abrade and wear out much more quickly. This is one of the first places that waders have worn out on me in the past. These waders have built-in gravel guards, a feature that I have come to prefer. In the time I have been trying out the waders, one of the lace hook retainers has torn off the gravel guard on one leg and the other one has loose stitching. The only real improvement I would make on these waders would be to reinforce the stitching on the lace hook retainers on the gravel guards. The same thing happened on my previous pair of waders, so it is not uncommon.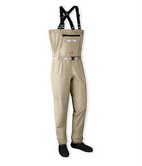 The Chena Waders fit me very well, and have an attractive style without trying to be too "girly." I like that the wading belt sits right on my waistline unlike many guys waders I have used in the past. I also liked the fish pattern swimming along the wading belt and the top of the front pocket. Of all the waders I've owned, I got the most compliments on these. Most waders are not flattering in any way, shape or form and these show your female form nicely, while still being comfortable and totally functional.
They were durable considering my rough use, and even after putting a hole in the reinforced knee climbing over a barbed wire fence, they did not leak. They didn't leak because the lower leg is faced with an additional piece of 4-layer PU Taslan. They were comfortable and offered a full range of motion while fishing, even while hiking through rough terrain. The Chena Waders breathed well and kept me comfy fishing in all weather conditions from cold to hot, and during drenching downpours. I fished hard in these waders and it was late summer when I put my first leak-inducing tear in them. I have since patched the tear and they have continued to hold up with regular use.
In their defense, I put the tear in them while fishing from our kick boat this past summer, which is notoriously hard on waders. I have never owned a pair of waders since beginning fly fishing that has lasted over a season without a leak. After my Chena Waders develop a leak or two more, I will patch them again and they will be reassigned to being duck hunting waders. Duck hunting is really hard on waders and not a great use for nice new waders that have never had a leak. Though my waders tend to have short and painful lifespans, these waders have held up well so far, and I would definitely recommend them as a good quality, economic wader. I believe they would last a while without abusing them as much as I do. I would recommend these as a good first pair of waders to the aspiring female flyfisher and to more experienced anglers.
Also available are matching Chena River Wading Boots, which I have not tested beyond wearing a pair that was a size too small for me for one day. Hiking around all day in boots that are too small is a painful experience. They were a size 9 which is my normal shoe size, so I would recommend upsizing when ordering these boots especially for colder fishers where thick wool socks are a must. The boots retail for $79.95, match the waders, and have an attractive style. You can find both the Chena River boots and waders online at http://www.redington.com/cat.php?k=62166.~Katherine Browne
About Katherine Grand

Katherine Grand pens "DamselFly Fisher" and works as Pro-Staff and Dealer Relations Coordinator at Prois Hunting and Field Apparel in Gunnison, Colo. She also guides in fly-fishing waters near Gunnison. View all posts by Katherine Grand →
The Conversation