Introducing … DamselFly Fisher
I've heard it said about skiing that if you're not falling, you're not pushing yourself hard enough. In my experience the same has been true about fly fishing. I've participated in and witnessed some monumental falls this last year. What brought about the idea for this blog were the two consecutive falls attempting to land big trout at the catch-and-release (C&R) area on the Taylor River the last two weeks.
While fishing there, I hooked up with a big rainbow and started fighting it. The fish shook the hook within the first 10 seconds of the fight. I flung my line back in the water in frustration after the fly popped and I uttered some choice words.
I glanced back down at my indicator and saw it plunge under water. I set the hook and line started screaming out of my reel as he plunged downstream with my flies. Not knowing how large this fish was, I ran downstream across the large uneven boulders that compose the Taylor River – trying to catch up and stay parallel with the fish.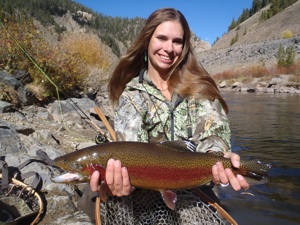 Suddenly I tripped and instantly knew I was going down. Like a soldier crossing a river with his gun, I instinctively held my rod up in the air and sacrificed my body to the rocks below in the best interests of my fish and my rod. I tumbled down, nailing my shin and knee on a rock and drenching half my shirt in the river. Thankfully, the fish was still there and I scrambled to my feet and landed it. Though it wasn't as big as the first fish I hooked, it was still nice 18-inch rainbow. I also landed a beautiful 24-inch rainbow that day, so fall or no fall … it was a fantastic day. As always with my falls, I had an audience. My fiancée was there with a front row seat along with about four or five other fishermen.
My most recent fall occurred this past Saturday. I went out on my own and was tearing it up. I caught about five fish in the fist half hour I was there and it looked like it was fishing a bit slow for everyone else. I was feeling pretty proud of myself when I hooked a BIG rainbow that started flying downstream as soon as I hooked him. Big fish at the C&R are experts at breaking you off on rocks, out running you, diving in to fast current, and any other tactic that results in escape. When I hooked this rainbow, I leapt off the tall rock I was fishing from.
High points are a great vantage point for spot-and-stalk fishing, but can be problematic if you land a sizable fish. I nailed the landing and sprinted down the bank after the rainbow. met the son of our good friend, Dennis, and he offered to help me land the fish. Landing big trout can often be a team affair at the C&R. No sooner had he pulled the big Brodin Excalibur landing net out of my vest, then I lost my balance and took a nose dive into the rocks. This time I wasn't so fortunate and my big 'bow was gone. Several fisherman and my netting buddy were gathered around asking me if I was all right. Once again, I had an audience. I responded that I was fine and that it wasn't the first bruise I'd earned at the C&R. I hooked and lost a couple other nice trout that day and finally landed a nice 23-inch brown that I had been fishing for a good hour and landed solo after an awesome two-minute fight. Fish epically lost can be just as satisfying as fish epically landed and often make better stories.
It may not be surprising for one's lack of balance to be witnessed at the C&R, but even when I think I'm totally on my own, someone always appears with perfect timing to see me take a swim.
This past summer I was walk-wading Neversink on the Gunnison. I saw one other person all day and not a single boat. My flies got hung up on a stick that wouldn't pull loose in an area that didn't look too deep to retrieve them. I started wading out and the hole was deeper and swifter than it appeared. The current caught me as I mis-stepped and I did my best chicken flap trying to recover and failed. I landed in the water and wildly flailed, trying to recover my footing as water spilled over into my waders. As I righted myself, I noticed my friend and fellow guide Jason Booth not far upstream of me in his raft floating down with clients. It was at this point I realized they had probably seen my whole display of grace and balance on the river.
All my hopes that they hadn't seen me swim were cast away when I saw the monster-sized grins on their faces. Jason asked me if I had a nice swim and I told them I had got over-heated and needed to cool off. You would think that embarrassment would be the end of it but Booth's client found me on Facebook and wrote me a message about my fall. I love social networking. At least I wasn't captured on film and tagged.
Katherine Browne graduated cum laude from Mount Holyoke College with a degree in biology and has worked as a wildlife and fisheries biologist, fly-fishing guide and white water rafting guide. She resides in Gunnison, Colo., where she is the Pro-staff Coordinator for Prois Hunting Apparel, where she provides apparel to the most talented and well-known women in the hunting industry as well as showcasing the talents and activities of its pro-staff.
About The WON

The Women's Outdoor News, aka The WON, features news, reviews and stories about women who are shooting, hunting, fishing and actively engaging in outdoor adventure. This publication is for women, by women. View all posts by The WON →
The Conversation