Introducing … the Tuff Truck Bag
On a dry day, the bed of your truck works great for hauling gear to and from your hunting spot, fishing lake, campsite or sports event, but how do you transport your gear when rain or snow is in the forecast? The new Tuff Truck Bag solves this problem.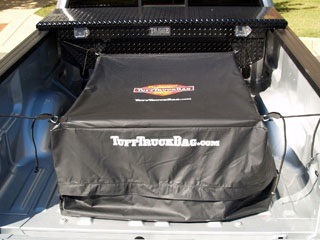 Tough, durable, waterproof and resistant to the elements, the Tuff Truck Bag keeps your luggage and gear safe and dry when in the bed of your truck. Measuring 40″ wide x 50″ long and 22″ tall, this large, but lightweight bag can hold almost anything you'd normally haul in your truck, and it is a great alternative to and more economical than a bed cover, cap or truck bed canopy.
The heavy duty, commercial grade 40″ opening zips from end to end on the front, and even goes around the bag's corner areas to create a "large mouth" opening. A waterproof, triple-layered, fold-over flap covers the zipper to protect your cargo from water and other outdoor elements.
Right Click to Save Image
All Tuff Truck Bags are made from waterproof, heavy duty, non-breathable PVC material and all seams are water-tight sealed using heat fusion and epoxy.
Heavy duty metal rings are fused in all eight bag corners in order to easily fasten the truck bag to any truck. Four adjustable bungee cords are included with each Tuff Truck Bag.
The Tuff Truck Bag has also been designed to fit snug into any full or mid-size truck bed, but not take over all of the bed space so that you can still use your truck bed if needed. The bags can even be used in conjunction with traditional pickup truck boxes to maximize storage space. The Tuff Truck Bag easily collapses to stow when not in use and can be rolled up for storage in the included tote bag.
Right Click to Save Image
Features at a glance:
Black in color
Waterproof and weatherproof
40″ wide x 50″ long x 22″ tall
Holds 26 cubic feet of space
Heat fusion & epoxy sealed seams
Triple fold flap to cover and shield zipper
Heavy duty to withstand the elements
Lightweight & collapsible for easy storage
Comes with storage tote bag
Heavy duty rings to secure the bag to any truck
4 adjustable bungee cords included
For more info, check out www.tufftruckbag.com.
Tuff Truck Bag Kit
Primary Contact:
Name: Tim Dozier
Phone: 251-391-6662
Email: tim@tufftruckbag.com
Secondary Contact:
Name: Adam Dozier
Phone: 334-714-6332
Email: adam@tufftruckbag.com
About The WON

The Women's Outdoor News, aka The WON, features news, reviews and stories about women who are shooting, hunting, fishing and actively engaging in outdoor adventure. This publication is for women, by women. View all posts by The WON →