MasterPiece Arms Shipping New Protector Series Handguns
CARROLLTON, GA– MasterPiece Arms new product line, the MPA Protector Series pistols, has begun shipping from its state-of-the-art manufacturing facility in Comer, Georgia. This highly awaited series of conceal carry pistols in .32 ACP and .380 ACP are American-made, finest quality personal protection or back-up guns at a wallet friendly retail price.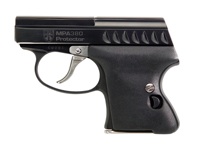 One of the unique features of the MPA32 and MPA380 is that, unlike most of the competition, the Protector series pistols are fully machined from solid steel and have no castings, polymers or MIMs. The machined 4140 steel receivers and 4140 or stainless steel upper slides are very durable, strong and lightweight; all features important in a personal protection pistol. The overall "grip-feel" of the Protector Series has been found in customer grip-test after grip-test to provide a more comfortable, confident and controlled grip on the pistols.
Other Protector Series pistol features include a recessed hammer for snag-proof control and safety, a 6 round magazine capacity and injection molded black grips. Both the MPA380 and MPA32 weigh 11.8 ounces. Both measure .925" in width, 4.37" in length, and 3.2" in height and have a 2.25" barrel. MSRP for the MPA32 and MPA380 in black is $322.90. MSRP for both with a stainless steel upper is $345.90.
About MasterPiece Arms:
MasterPiece Arms, main offices located in Carrollton, Georgia, was founded in 1992 by Gary Poole and purchased in 2008 by Jimmy Payne and Phil Cashin. MasterPiece Arms combines quality engineering and state-of-the-art manufacturing to design and produce firearms, such as the re-innovated MAC 10 Defender Series. MasterPiece Arms is proud to offer one of the highest quality, subcompact, double action only pistols on the market while maintaining a very affordable price. MasterPiece Arms uses state of the art CNC machining, turning, laser cutting and bending in its manufacturing process. MPA puts more than a year and a half into engineering, testing and re-testing its weapons to provide customers with one of the most enjoyable guns available. With versatile uses such as protection, hunting, tactical or novelty interests, MPA products are one of a kind and backed by a lifetime warranty for original owners. Learn more MasterPiece Arms products at www.masterpiecearms.com, call 866.803.0000. MasterPiece Arms is now on Facebook at www.facebook.com/MasterPiece-Arms
-more-
Press Release Page 2
PR Contact:
Laura Burgess
Laura Burgess Marketing
252-288-5805
About The WON

The Women's Outdoor News, aka The WON, features news, reviews and stories about women who are shooting, hunting, fishing and actively engaging in outdoor adventure. This publication is for women, by women. View all posts by The WON →