ThermaCell'S 'Operation: Buzz Down' Gives 98% Effective Mosquito Protection to Troops as Holiday Gift
To support American troops overseas where biting insects are a health risk, ThermaCELL has launched "Operation: Buzz Down." ThermaCELL is the most effective area repellent available for protection against biting insects and is taking action to protect the health of those who protect the freedom of U.S. citizens.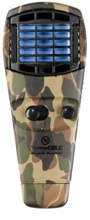 ThermaCELL will donate Appliances and Refill Value Packs for products sold between Veteran's Day and Christmas Day 2010 and will include a personal note from the gift-giver.
For every two UPC codes received, ThermaCELL will provide a free gift pack including an appliance and providing 60 hours of protection to troops for Christmas 2010 or to troops being deployed during spring 2011 to places where biting insects are a problem, such as Afghanistan.
According to U.S. Army 1st Lt. Emily K. Baker in a recently published army document *, U.S. Troops are facing a major mosquito and fly problem in the Middle East, especially in Afghanistan. "We have tons of flies and mosquitoes … and mosquitoes are so much worse because it's harder to see them." "Mosquitoes and sand flies present a particular challenge because they can be carriers of vector-borne diseases such as malaria. There were 29 cases of malaria reported in 2009…"*
"Operation: Buzz Down" specifics:
From Veteran's Day (11/11/2010) through Christmas (12/25/2010) consumers purchase a ThermaCELL Appliance or Lantern either for themselves or as a present.
Consumer mails in receipt, UPC code and promotion card (before 1/10/2011) and can write a note to a member of the US Military wishing them a happy holiday season and thanking them for their service to the country.
ThermaCELL will donate an Appliance and Refill Value Pack for every two UPC codes received and will attach a note from the consumer. Product will be shipped to the military for dispersal. Consumers will not be able to designate gift packs for a specific member of the military.
According to Vice President of Marketing Allegra Lowitt, "Once we learned U.S. Troops are suffering from mosquito borne illnesses such as malaria, we created a program to provide troops with protection from infected insects. Our troops have given us so much; we would like to do something to make their deployment safer and more comfortable."
ThermaCELL, a division of The Schawbel Corporation of Bedford, Massachusetts, utilizes patented technology to create cordless, portable appliances powered by replaceable butane cartridges. ThermaCELL Mosquito Repellent, the award-winning area repellent for outdoor enthusiasts is up to 98% effective at repelling mosquitoes, black flies and no-see-ums. For more information on ThermaCELL's complete line of products, testimonials, or store locations visit www.thermacell.com or call 1-8-NO-SKEETERS (866-753-3837).
* Published on September 9, 2010, by U.S. Army 1st Lt. Emily K. Baker, Task Force Taskmaster executive officer; Official Website of the US Army (www.army.mil/-news/2010/09/09/44889-preventive-medicine-keeps-soldiers-in-the-fight/)
###
Media Contact
Shannon Salyer: shannon@chevalier-adv.com 503.639.9190
Our mailing address is:
*26 Crosby Drive, Bedford, MA 01730*
Copyright (C) 2010 *ThermaCELL* All rights reserved.
About The WON

The Women's Outdoor News, aka The WON, features news, reviews and stories about women who are shooting, hunting, fishing and actively engaging in outdoor adventure. This publication is for women, by women. View all posts by The WON →
The Conversation