In My Sights: Just Say 'NO!' to Winter Inertia
Winter often tends to make us hibernate, stuffing food into our cheeks like our squirrelly neighbors in the trees, sluggishly moping around under gray skies, and supplementing our thin winter pelts with furry blankets on the couch in front of the TV.
Just say no winter inertia!
In Oklahoma, there's still time to hunt crow, deer, pheasant and quail. Dove can be hunted between Christmas and New Year's (January 2nd, actually). I think that sounds like a much better alternative to being trapped in a stuffy house with all the children home for the holiday. Get them outside before they begin to snarl at one another like trapped coyotes. Have they been through hunter education? It's a one-day class. Exchange that fat-filled party with people you barely know (or don't care to) and take your kids to the woods for winter fun.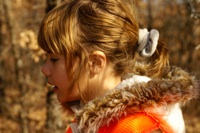 Your state hunting regulations and seasons are available online for dates and location information. Even if you opt not to hunt with a gun, stalking wildlife with a camera can be just as much fun, and a sport that younger children can participate in as well. (Remember to wear your blaze orange if you will be in an area where hunting is allowed).
In an already crowded holiday season, leave the crowds behind, relieve your guilt of too much food and not enough exercise, and make a holiday memory that has nothing to do with fruitcake.
Traci Schauf is a college instructor, freelance writer, amateur photographer, and obsessed outdoorswoman who divides her residency between Oklahoma and Kansas. With her family, she canoes, kayaks, bikes, hikes, backpacks and fishes. She hosts her own daily blogs about her family and outdoor life athttp://momonvacation.blogspot.com and healthy living and fitness athttp://community.wholeliving.com/profiles/blog/list?user=3q9603u0ypadw. She has been published in Country Woman, Family Fun, and Contempo magazines. Traci's philosophy is "there is an outdoor activity for everyone, and everyone should be outdoors."
About The WON

The Women's Outdoor News, aka The WON, features news, reviews and stories about women who are shooting, hunting, fishing and actively engaging in outdoor adventure. This publication is for women, by women. View all posts by The WON →
The Conversation