Skull Hooker™ Designs Revolutionary Big Hooker Game Bracket Perfect for Elk and Other Massive Wall-Mounters
When a successful hunter brings home a trophy bull elk, he or she will soon be seeking the best way to safely and attractively display the massive, awe-inspiring head without damaging it, or their wall. Now the experts at Skull Hooker™ have hit the nail on the proverbial head with a revolutionary European mounting bracket design that allows enthusiasts to proudly display their hard won trophies without actually putting a nail (or a screw) through the animal's skull: the Big Hooker by Skull Hooker.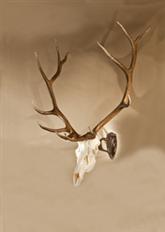 The newest addition to the all-star Skull Hooker lineup of trophy displays is created for true blue hunters who seek a secure and elegant display mechanism for the granddaddy of big game mammals: the elk. This incredible system requires no drilling into the skull like other hanging products on the market — instead, it's engineered with a special patent-pending prong system, which seamlessly fits into and supports the natural holes in the base of the animal's skull. This versatile bracket's mounting arm is also crafted with an option to swing from side to side, so hunters can choose the perfect angle and direction to suit their living room, hunting lodge or office with a natural upright display.
All of this versatility and performance doesn't come at the price of seamless use and installation – on the contrary, it's simple to implement and change positions. The Skull Hooker Big Hooker system is comprised of sturdy, yet sophisticated powder-coated Graphite Black or slick Robust Brown brackets – material that lends an air of refinement to your display, but is so well made that even the largest bull elk skulls can be proudly displayed indoors or out for seasons to come.
All Skull Hooker products are proudly made in the U.S.A. For more information on the
stylish and elegant Skull Hooker European mounting system, contact: Skull Hooker at
P.O. Box 257, Klamath Falls, OR 97601 • Phone: (541) 884-3177 • Or visit online at www.skullhoooker.com.
Editor's Note: For hi-res images and releases, please visit our online Press Room at www.full-throttlecommunications.com.
About The WON

The Women's Outdoor News, aka The WON, features news, reviews and stories about women who are shooting, hunting, fishing and actively engaging in outdoor adventure. This publication is for women, by women. View all posts by The WON →