Babbs in the Woods: Three Picks from the SHOT Show

It's overwhelming really. The amount of shooting, hunting and outdoor gear you get exposed to at the Shooting, Hunting, Outdoor Trade Show (aka SHOT Show) in Las Vegas held last week at the Sands Convention Center.
And, really, it's just stuff. But, it's stuff with a meaning behind it. It's stuff that supports the lifestyle that symbolizes freedom: freedom to shoot, to hunt and to conserve the outdoors.
At the same time we were in Vegas, there also was a hairdressers' convention going on and another convention called World of Concrete. Now, we all know that hairstyles and concrete might come into play at some time in our lives, but neither addresses basic human rights of being able to protect yourself against a tyrannical government or to exercise your freedom of speech. One of the hairdressers, sporting a hot pink pageboy, sat across from us on the plane to Vegas. I sat next to a guy who was attending the international concrete show, and then, we sat behind two attendees who run a concrete design business in Oklahoma – who seemed overly enthusiastic about concrete bathtubs – on the shuttle bus to the hotel.
I am to the point in my life where I want to pare down the stuff department, not ramp it up. I don't want any more blinds, backpacks or ball caps. I have my reliable camo, my firearms of choice and just about anything else I need for the outdoor experience I choose to take, including great boots from Danner and a backpack from BlackHawk. Anything I purchase must complement my lifestyle, not change it. Ideally, it will replace something I already own and improve my lifestyle as a result.
Yes, I am becoming an old person and I am happy with my life choices.
And, I hung my first birdfeeder out yesterday.
What did I find at the SHOT Show that will replace and/or improve stuff in my outdoor lifestyle? In other words, these are on my "gonna have it someday" list. These are my top three things.
FLIR BTW-Series Bi-Ocular Thermal Night Vision Camera
FLIR Systems, Inc., is the world's leading manufacturer of thermal cameras, and it recently introduced this camera to its lineup.
This bi-ocular allows you to enjoy nocturnal viewing, or in my case, I'd like to see what's out there at the ranch when I hear noises in the bushes. You can even see through camouflage and moderate foliage, as it employs either a 320×240 or 640×480 thermal imaging core with advanced image-processing algorithms. Three lens options – 35mm, 65mm, or 100mm, allow rapid field exchange with quick disconnect, and the unit is lightweight.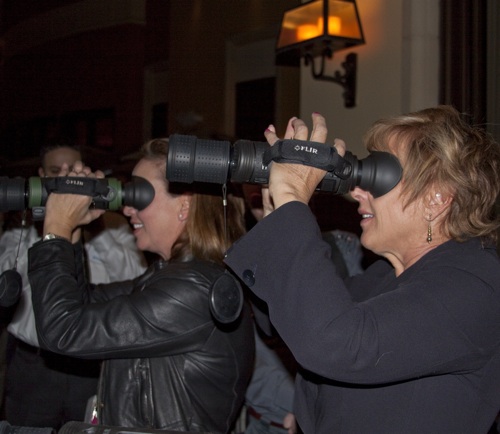 And, you can record with one-touch recording. I'd also like to use it to track game in low light, especially if it's the end of the hunting day and I'm on a blood trail. But, you must check with your state's regulations to make sure you are in compliance with wildlife code laws.
Retail: $7,798 for 320 camera body with shortest (35mm) lens option, $11,998 for 640 camera body with longest (100mm) lens option
For more information, contact Haley Barclay at 503-498-3293, or email haley.barclay@flir.com.
TDI Law Enforcement Knife, Serrated
It's not that I want to have to carry a knife, believe me. That's way too close for comfort for me. Getting up close and personal and potentially drawing blood. Yuk. But, there comes a time and a place – hello, Washington D.C., the states of Illinois and New York, to name a few, and the fact that I live near and have to visit the "most dangerous city in the U.S.," good ole St. Louis – that I'm considering buying a knife and learning how to use it. Did I mention that I like bordering on being an old person and that I want to stick around long enough to enjoy old age?

So, at the show, Melita Ellington, a gun instructor who runs Magnolia Defense Enterprises, and I met Tara Zak, Marketing and Purchasing Assistant, for KA-BAR Knives, Inc. She sold me on this one: TDI Law Enforcement Knife. It's a "last-option" knife, used by law enforcement officers when they cannot access their handguns. Worn on the pant belt on either the strong or weak side of the body, this knife and its corresponding sheath, is concealed. It is made of AUS 8A stainless steel, with a 2 5/16th inch blade and overall length of 5 5/8 inches. I liked how Tara showed us the potential to pull and slice and dice. You can see it here.
However, let me state that I would NEVER carry a knife until trained to carry one. Same thing with a gun. (Of which I am and if you want, you can take classes from me in Missouri.)
Contact: Tara Zak, 800-282-0130
Retail: $56.75
HiViz Sight Combo
My pal, Chris Quam, who is Director of Sales at HIVIZ Shooting Systems, gave me a package of front/rear sight combo pieces for my carry gun. Did I mention that my eyes are getting old, too? I was complaining to her about having trouble distinguishing the black front sight on the black target while practicing. Although I realize we're talking center of mass here, I still get a little thrill from hitting more center than mass.
Interchangeable litepipes for the front sight include six litepipes in red and green, carrying case and key to interchange litepipes. The rear sight comes in green LitePipes with a .050″ diameter. Fits all Glock models except ported or compensated models, and also fits 9mm. .40 S&W and 357 Sig (GL2215). I have a good feeling about this product. I'll report more about it later in Gear Court.
If you want to see more about HIVIZ, click here.
Retail: $86.70.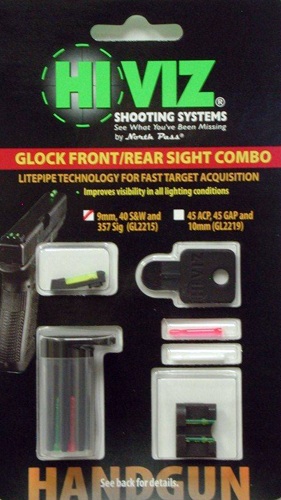 About Barbara Baird

Publisher/Editor Barbara Baird is a freelance writer in hunting, shooting and outdoor markets. Her bylines are found at several top hunting and shooting publications. She also is a travel writer, and you can follow her at https://www.ozarkian.com. View all posts by Barbara Baird →
The Conversation