Woolrich Partners With Agion to Battle Odor
SALT LAKE CITY, Jan. 20, 2011 /PRNewswire/ Woolrich, the Original Outdoor Clothing Company™, has partnered with Agion®, a leader in anti-odor solutions, to launch the odor eliminating technology Agion Active in the outdoor apparel market. Woolrich is introducing the new technology in its collection of Merino and polyester blend base layers being introduced for Fall 2011.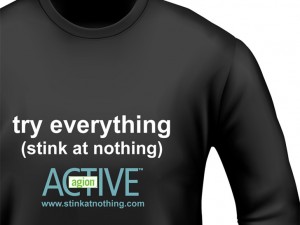 "While wool has the natural ability to eliminate some odors, by incorporating Agion Active into our base layers we are able to offer something that no other brand can – total confidence in knowing that that no matter how hard you work or play you won't offend those around you," said Jerry Rinder, Woolrich VP of Sales and Marketing.
Agion Active features a dual action technology that not only provides antimicrobial product protection and industrial-strength odor elimination, but also eliminates odors both on and around the fabric. Silver ion antimicrobial technology stops propagation of odor causing bacteria on the fabric, while a natural, proprietary odor-trapping solution captures molecules from ambient odors. Unlike previous odor control solutions, Agion Active eliminates odor from over 14 sources, achieving performance well beyond what has been offered to the consumer. Agion Active regenerates with each the wash and continues to perform for the life of the garment.
"We are excited to announce our partnership with Woolrich," said Paul Ford, chief executive officer of Agion. "Agion is already a strong brand for odor control in footwear and we are pleased that our Agion Active technology for apparel can now be delivered by Woolrich, one of the most authentic and respected brands in the outdoor industry."
The Woolrich garments featuring Agion Active include the 50/50 polyester and Merino blend men's Territory crew and half zip shirts and women's Poly Merino half zip and vee neck shirts. The shirts' fine micron merino fibers make them soft and comfortable next to skin and helps control body temperature in all conditions while the antimicrobial protection, efficient moisture wicking, quick drying, and UPF 40+ protection make them ideal for three season outdoor activities.
The Woolrich base layers with Agion Active will be available at select retail locations and Woolrich.com in Fall 2011 with suggested retail prices ranging from $59 to $69.
About Woolrich®
Woolrich Inc., the Original Outdoor Clothing Company, is an authentic American brand that embraces an outdoor lifestyle. Trusted since 1830 by generations of loyal consumers, Woolrich continues its tradition of providing quality products for today's outdoor enthusiast. A brand recognized worldwide, Woolrich product offerings include functional, comfortable and durable men's and women's sportswear and outerwear using innovative fabrications for the ultimate in performance capabilities, well-designed home and outdoor living products, and licensed accessory products. In 2010, Woolrich celebrated its 180th Anniversary. It is the original and longest continuously-operating outdoor apparel manufacturer and woolen mill in the United States. Find out more at www.woolrich.com.
About Agion Technologies, Inc.
Agion Technologies, located in Wakefield, Mass., is a leader in providing customized solutions that enhance the value of partners' products. Agion's technologies are based on silver and other naturally occurring elements and have been incorporated into a wide range of consumer, industrial and healthcare products, including cell phones, shoes, keyboards, water filters, medical catheters and ice machines. Agion's customers include many leading brands such as Dell, Motorola, PPG, Carrier, DuPont and over 40 major footwear brands including Adidas and Columbia.
For more information about Agion Technologies, visit www.agion-tech.com and www.stinkatnothing.com and follow Agion's exciting consumer campaign on Facebook and/or Twitter.
About The WON

The Women's Outdoor News, aka The WON, features news, reviews and stories about women who are shooting, hunting, fishing and actively engaging in outdoor adventure. This publication is for women, by women. View all posts by The WON →