Gear Court: Propper BDU pants are proper
I recently purchased some cargo style pants to wear during outdoor training for work. These pants are not a product I just began to wear. As a matter of fact, the first time I donned them was in 1992 when I joined the US Army. I have never met a soldier who did not like BDUs. I cannot say the same about the Army dress uniforms (yuck).
Once I left the Army and began my career in law enforcement, I wanted to purchase additional BDUs for a couple of reasons; they're comfortable, mine were wearing out; and (this may be hard to believe) I wanted the pants in a color other than camouflage. With evolution of the Internet and some research, I was able to determine that Propper International, Inc. manufactures BDUs for the military.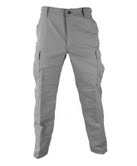 Several years ago I purchased the Button-Fly Battle Rip Trouser in black and olive green from Propper International, Inc. But it wasn't until my recent purchase of those pants in other colors (light grey, dark grey and khaki), that women were asking me about who made the pants and where I purchased them. I wouldn't have thought to review this product until those inquiries.
Propper International sells their BDUs in cotton, poly, twill and other fabric combinations that accommodate your needs. Personally, I have only ever purchased the trousers in the Battle Rip 65/35 Poly/Cotton, which is very durable and heavy weight. These trousers are available in Grey, Dark Grey, Olive Green, Khaki, Navy, Black and Camouflage. They are priced at $39.99.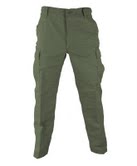 Other specifications for the Battle Rip trouser include:
Sewn to Military Specification MIL-T-44047E
Six Pockets, Four with Button Flaps
Fused Pocket Flaps
Four Button Fly
Double Reinforced Seat and Knee
Adjustable Waist Tabs and Four Bar Tacks
Drain Holes in Bellows Pockets
Nylon Drawstring Leg Closures (Fused, Knotted, Tacked)
Felled Inseam, out seam and Seat Seam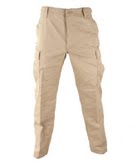 These pants are unisex. That may sound insignificant, but it is very important because their pants are made for most body types. That cannot be said for most clothing. For reference I am 5'5" and (depending on the time of day) 130 lbs. I purchased the small/short. They are slightly baggy. The military BDUs from Propper offer an x-small option, which the Battle Rip Trouser does not. Stating the obvious, military BDUs are only available in camouflage.
Just a warning, there are other alluring products on Propper's website. This was one of those websites that I had trouble focusing on my intended purchase. Inserting the hyperlink to this article tempted me back into the website. Somehow, I found the strength to resist making additional purchases. It was close…I had items in my basket.~Sara Ahrens
www.propper.com
*This reviewer purchased this product for review.
The Conversation