Team Safariland member Maggie Reese on new season of 'Top Shot'
Jacksonville, Florida – Safariland™, a BAE Systems line of business, announces that Team Safariland shooter Maggie Reese has been selected as a participant on the hit reality show, Top Shot, Season 2 on the History Channel.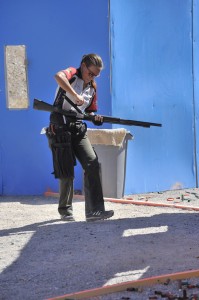 Reese is highly proficient in various shooting disciplines, yet puts most her of concentration and focus in Open Class pistol and the relatively new, but quickly growing Multigun competitions. She has won numerous tournaments including the 2009 and 2010 USPSA Multigun Ladies Open, as well as the 2009 and 2010 Superstition Mountain 3-Gun Ladies Open.
Reese has an extensive professional shooting background, and she is emerging as a leader in the new trend in the competitive arena: female shooters. Along with Tasha Hanish, Randi Rogers, Kenda Lenseigne, Julie Golob, and Jessie Abbate, Reese recently joined Team Safariland and is making an immediate impact, both on and off the range. Several have inked television deals in addition to winning tournaments.
"It's great every time one of our team members is put on the national stage, but doubly exciting when it involves a showcase that goes out well beyond core shooters and into the mainstream," stated Scott Carnahan, VP, Category Management for Equipment Products.
The History Channel Top Shot show, Season 2 can be seen every Tuesday night at 10/9c and premiers Tuesday, February 8.
For more information about Safariland holsters or other products, visit the following web sites: www.safariland.com/dutygear or www.holsters.com.
About Safariland
Safariland, LLC is a premier provider of law enforcement and security products and services, delivering a full-range of customer-specific solutions. Offering many of the world's most recognizable branded products in the public safety market, Safariland is committed to saving
lives. For more information about Safariland and its body armor products, as well as information on the new NIJ-06 standard, please visit www.safariland.com.
About BAE Systems
BAE Systems is a global defense, security and aerospace company with approximately 107,000 employees worldwide. The Company delivers a full range of products and services for air, land and naval forces, as well as advanced electronics, security, information technology solutions and customer support services. In 2009 BAE Systems reported sales of £22.4 billion (US$ 36.2 billion).
About The WON

The Women's Outdoor News, aka The WON, features news, reviews and stories about women who are shooting, hunting, fishing and actively engaging in outdoor adventure. This publication is for women, by women. View all posts by The WON →