Armed beauty queen and 'Sisters Shoot' event topics on Urban Shooter Podcast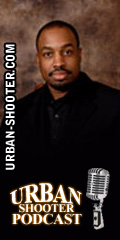 The pastor of pistoleros and patriots, aka Kenn Blanchard, and his weekly podcast variety show titled "Urban Shooter," features information valuable to women. He highlights a Sisters Shoot in Maryland, an event tailored to women by the Maryland Tenth Cavalry Gun Club. The event features firearm safety and shooting skills. Learn more at the the club's website.
Tune in to hear Barbara Baird report on the former beauty queen who used her Christmas present to defend herself and her fiance from an intruder in their home recently. She used a pink gun.
And, there's more … but you can hear it here.
About The WON

The Women's Outdoor News, aka The WON, features news, reviews and stories about women who are shooting, hunting, fishing and actively engaging in outdoor adventure. This publication is for women, by women. View all posts by The WON →