Safety is on target with new Rinehart X-Bow Unloader (XBU)
Crossbow hunting is quickly becoming the hottest fire among archery enthusiasts. And as the sport continues to grow, safety still remains a top priority when out in the field. For instance, when your crossbow is cocked and ready to fire, and you're not — you'll need a safe,
secure place to unload those bolts. Now, thanks to Rinehart Targets,® the new Rinehart
X-Bow Unloader™ takes on this duty while also doubling as an ultra-light, take-anywhere
practice target.
And ultra-light it is — so compact and lightweight in fact it tips the scale at a mere 7 pounds, measures in at a mere 9" in diameter and can be effortlessly tossed into the field ready for unloading or some last minute practice. Bright and bold target zones make the Rinehart
X-Bow Unloader easily seen from up in your treestand, and also make it ideal for use as a yardage marker.
Performance and durability were top of mind when creating this target. While most crossbow bolts are made to inflict maximum damage and penetrate its target at impressive speeds, the Rinehart X-Bow Unloader is made to take them on without causing even a dent, thanks to Rinehart's legendary solid self-healing foam filled through and through. Which means after a long day in the field, you can un-cock your crossbow safely by firing at the X-Bow Unloader without a care in the world, and definitely without fear of shooting it out. Like all Rinehart Targets, the company's solid self-healing foam also ensures that once you've emptied your quiver, arrow removal is a quick and simple task.
Its convenient carrying handle allows for easy transportation from the treestand to the truck and back. No set up is required. Simply toss it into the field and the X-Bow Unloader is ready for fire — it's balanced with sand too, so it'll land upright every time.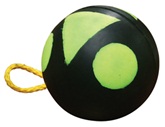 For more information about the Rinehart X-Bow Unloader (XBU) target – or Rinehart's full line of premium quality 3-D targets for hunters and competitive archers – contact Rinehart at 1809 Beloit Avenue, Janesville, WI 53546 • (608) 757-8153 • Or visit www.rinehart3d.com.
Editor's Note: For hi-res images and releases, please visit our online Press Room at www.full-throttlecommunications.com.
About The WON

The Women's Outdoor News, aka The WON, features news, reviews and stories about women who are shooting, hunting, fishing and actively engaging in outdoor adventure. This publication is for women, by women. View all posts by The WON →