The Skull Hooker European skull mounting system offers simple and stylish solution
Let's face it; everyone has felt the pinch in his wallet over the last couple of years and looked for ways to slash the budget without cutting any of the luxuries. The good news is that hunting activity peaks most often when the economy slumps. Just because hunters are out ensuring that their lodge will have meat for the winter doesn't mean they are any less enthused by the harvest of a trophy animal — just less enthused with the cost of mounting one.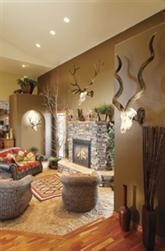 Even with a trophy animal in hand, many hunters face disappointment when they start looking at the potential cost of a shoulder mount. Fortunately, hunters have an alternative that is not only more fiscally appealing, it's FLAT-OUT COOL! The Big Hooker by Skull Hooker has revolutionized how hunters view trophy animals by offering a stylish-looking mounting system at an ultra-affordable price (MSRP is $79.95).
Visualize stalking the tundra for trophy caribou. Successful hunters wishing to have a 'bou mounted are looking at trophy that will be between four and five feet tall. Mounts of this size are hard to display in a standard room with eight-foot ceilings. However, mount the same trophy bull as a European with a Big Hooker from Skull Hooker, and you just saved up to 18 inches. Instead of having an out-of-place behemoth shoulder mount, you now have a classy piece of trophy art.
The Skull Hooker excels as the ultimate European skull mounting system. Carefully crafted in the USA, the tasteful, modern Skull Hooker system eliminates the old, bulky, static-looking wood plaque mounting method. The Skull Hooker allows hunters to display trophies in a natural, upright condition displaying horns, antlers, tusks, teeth and skulls to their best advantage. The innovative Skull Hooker also solves the problem of having to drill holes or run screws through the skull with its patent-pending prong system, which fits easily and securely into the natural holes and crevices already present in the back of the skull.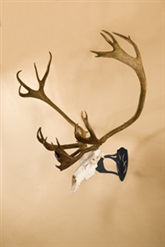 Because the Skull Hooker is fully adjustable both side to side and up and down, hunters finally have the ability to display trophies in any space or corner of a room. Best of all, with the Skull Hooker you can change the profile of your European mount at any time, updating the entire look of your trophy room or office.
The Skull Hooker is available in two sizes. The Little Hooker is designed to accommodate all deer species, black bears, cougar, antelope and other small exotic game. The Big Hooker handles harder to display behemoths such as caribou, but is also ideal for elk, bison, moose, grizzly/brown bear, domestic steer and most of Africa's large game — kudu, stag, Cape buffalo, eland, etc. Both Skull Hooker models are powder coated in either Robust Brown or Graphite Black to match any motif or trophy room furnishings.
For more information on the Skull Hooker's refined approach to displaying your trophy European mounts, contact: Skull Hooker at P.O. Box 257, Klamath Falls, OR 97601.
Phone: 541-884-3177 • or visit online at www.skullhooker.com.
Editor's Note: For hi-res images and releases, please visit our online Press Room at www.full-throttlecommunications.com.
About The WON

The Women's Outdoor News, aka The WON, features news, reviews and stories about women who are shooting, hunting, fishing and actively engaging in outdoor adventure. This publication is for women, by women. View all posts by The WON →