Gear Court: Termination of ticks' rights with Sawyer Products
Ticks – those tiny terrorists, disease carrying little arachnids, the bane of all folks who enjoy and spend time in the outdoors. Over the years I have battled ticks with every conceivable commercial product and home remedy around. After a particularly vicious case of Rocky Mountain Spotted Fever a few years ago, I've become a one-woman tick anti-terrorism force.
Early last Spring, I tried yet another commercial Permethrin product and was blown away by how well it worked, how long it lasted, as well as the economical cost.
Sawyer Products makes a variety of clothing and gear Permethrin based products. Not only does his product repel and kill ticks, add chiggers, mites, and mosquitoes to the list of little nasties that it will repel and kill. Last year my favorite was the 24 oz Permethrin Trigger Sprayer.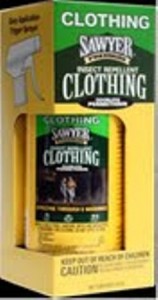 I felt like I had less product loss to the air when using this type than with the aerosols. I treat socks, boots, shirt, pants, face mask, and hats. I have no skin irritation when I begin to perspire when using this product, unlike some other gear and clothing treatments I have tried. Sawyer will tell us that the product is good for up to six washings, but by washing in cold water and line drying, I found I could easily stretch that to 8 washings. Once I began using this product, I had no ticks, no chiggers, no turkey mites , and minimal distress from the turkey sized swamp mosquitoes. I was no longer bugged by the bugs!
This year I'm anxious to try the newest product in the Sawyer product line. It's similar to a gear treatment that I once received as "gift" from a friend in the military who was concerned about my constant exposure to ticks.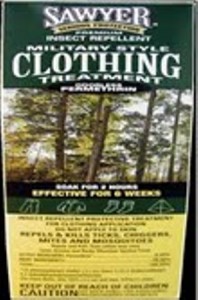 The Sawyer website announced that "The EPA has recently granted Sawyer® registration for a new Military Style Insect Repellent treatment system for clothing. Similar to the U.S. Military system, with consumer friendly directions; simply soak your clothes or bed net in a permethrin solutions for 2 hours, hang dry and stay protected for 6 washings – no guess work!"
Not only does the Sawyer product line up include gear and clothing treatment, they also make a variety of skin applications and even "TickPliers" for proper tick removal. This little gizmo is a must have for anyone who deals with ticks on themselves or pets. The Sawyer website is correct in its assessment that "The Tick Pliers removes ticks safely without squeezing, twisting, or even touching the tick. The safest, fastest and most effective way to remove ticks from people and pets."
If you want to spend your spring, summer, and fall outdoors without worrying about the various disease carrying insects that plague any of us who spend time in the forests, the fields, in the woods and on the water, I cannot recommend the Sawyer line of insect repellents highly enough.
Five stars for Sawyer products from this woman in the outdoors!~Gretchen Steele