Gear Court: Caldwell's DeadShot Field Pod — at the ready and always steady
Opening morning of Missouri spring turkey season found me field testing a really great product from Caldwell® Shooting Supplies, the DeadShot FieldPod. The FieldPod is a tripod and shooting rest all in one. The FieldPod provides a place for you to rest your gun while waiting for that gobbler to come in, but it also increases your chances of a successful shot because it helps to steady the firearm.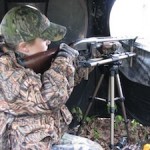 One of the things that I like most about the FieldPod is how quick and easy it is to set up in the field. It's extremely lightweight, which makes transportation a cinch, too! The legs are adjustable from 20 inches to 42inches, which makes it great for sitting or standing, and the rest pivots and rotates 360 degrees for fast target acquisition and smooth range of motion.
The FieldPod is extremely versatile. While it worked great for my shotgun during turkey hunting, it will fit rifles, muzzleloaders and crossbows. Though it wasn't necessary for me to adjust the "forks" at the front and the rear for the shotgun I was using, some AR-15 magazines extended well below the receiver of the gun. The adjustments on these forks can be raised in order for the magazines to clear the rest.
Although I'm no stranger to firearms, this was my first year in four actually seeing a bird, and with the adrenaline that I had running through my veins, I'm extremely glad I had the FieldPod there to help me steady my shot. Without it, I'm sure I would have missed! For more information on the Caldwell DeadShot FieldPod, visit www.battenfeldtechnologies.com/caldwell.
This product was provided to reviewer for review.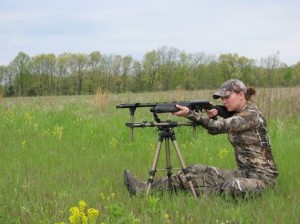 About The WON

The Women's Outdoor News, aka The WON, features news, reviews and stories about women who are shooting, hunting, fishing and actively engaging in outdoor adventure. This publication is for women, by women. View all posts by The WON →