Tracy Ann Delp goes on trail ride of her life in order to save lives
Some women are just born to be strong and born to do great things. Tracy Ann Delp is one of those women. I've known and worked with Tracy Ann for years and I never once doubted that she is a woman who can do anything she sets her mind to. She is smart, determined, tough and now taking on a selfless task that will push her to her own limits all for the sake of those in need.
Tracy Ann is saddling up to ride her horse from the Pacific Ocean to the Atlantic Ocean in the name of raising money for cancer. She and fellow rider, Dan Shanafelt, began their ride on Ocean City, Wash., on the crest of the Pacific Ocean on Mother's Day, May 8. They rode the intermediary trails through most of western Washington until connecting to the John Wayne Trail at Iron Horse State Park. From there, they have traveled over the Cascade Range and Snoqualmie Pass into Eastern Washington where they will continue toward the Idaho border. From the John Wayne Trail they will connect to the Idaho Centennial Trail in St. Joe National Forest, which will drop them to the Continental Divide Trail and into Wyoming's Yellow Stone Park and Teton Wilderness. They will then pass through Colorado, Kansas, Missouri, Illinois, Indiana, Kentucky, Ohio, West Virginia, Maryland and into Delaware where they will end at Cape Henlopen State Park in Lewes, Del.
Tracy Ann and Dan have already encountered some difficulties as they rode through Western Washington. Their trailer broke down and Tracy sustained an injury to her leg after getting stepped on by her horse. The two were close enough to home to get the welding assistance necessary to fix the trailer and get back on the trail quickly, but it gave the riders a good look at the hurdles they were going to have to overcome throughout the trip. Giving up never occurred to them, though, and they were back on the trail just a week later.
The pair is looking at approximately eight hard months through the heat and the rain of every climate that the United State has to offer. They are cooking on camp stoves and have all their gear packed on horses and mules to get them from point to point. Even Tracy's trail dog, Ursa, is carrying her own food and gear for the trip.
These two adventurers are raising money for both human and animal cancer. They are hoping to get participation to raise awareness of their cause from anyone who would like to ride or walk with them and are looking for support among citizens along their route in any form. Find out more, read their blog and view photos from their trip at the Coast 2 Coast for Cancer website. ~Shelley Sargeant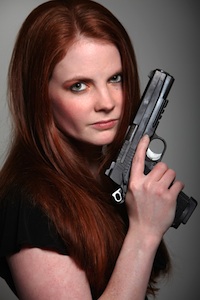 Freelance writer Shelley Sargeant is a range master at Washington's premiere indoor range, West Coast Armory, and an Editor at Large at Gun Nuts Media. Visit her online at her website.
About The WON

The Women's Outdoor News, aka The WON, features news, reviews and stories about women who are shooting, hunting, fishing and actively engaging in outdoor adventure. This publication is for women, by women. View all posts by The WON →