GLOCK's Randi Rogers takes another title at USPSA EGW Area 8 Championship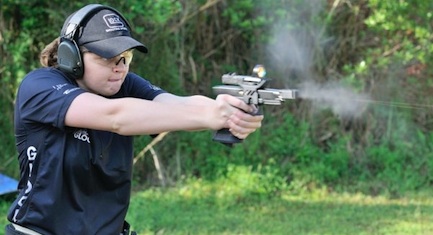 FREDERICKSBURG, Va. – For the third year in a row Team Glock's Randi Rogers of Smyrna, Ga. claimed victory at the U.S. Practical Shooting Association's Area 8 regional championship, this time in the Limited division. Previously Rogers captured back-to-back Production division titles in 2010 and 2009.
Rogers, who led the women's contest at the 2011 EGW Area 8 Handgun Championship from start to finish, won six of the 10 stages and outgunned fellow Glock teammate Tori Nonaka of Woodbridge, Va. by 82 points to win the Women's Limited title with a final score of 893.9234.
Rogers finished 26th overall in the division.
"There's no doubt that Randi is right at home here at the Mid-Atlantic's biggest handgun championship, picking up her third consecutive title in as many years," said Harry Foltz, the USPSA Area 8 director.
Nonaka, who won the four stages her teammate didn't, finished in second, and as the top junior in the division, with a score of 811.5667 points.
Rounding out the top five were Joanna Lenczewska in third with 551.4723 points, Claibourne Jackson in fourth with 546.4682 and Mary Bonn in fifth with 512.3845.
Elsewhere in the Limited division contest, Team Para USA shooter Travis Tomasie of Smiths Station, Ala. claimed the overall title with 1249.3476 points. Jeffrey Salzberg of Woodbridge, Va. won the Senior Limited title with 836.1111, while Gene Sullivan finished as the division's top Super Senior with a score of 762.7770.
The 2011 EGW Area 8 Handgun Championship was held September 1-4 at the Fredericksburg Rod & Gun Club. In addition to crowning champions in each of the six USPSA divisions – Limited, Limited-10, Open, Production, Revolver and Single Stack – the match also hosted a shooting fundraiser as part of a larger effort to raise money for the Wounded Warrior Project. To date the Area 8 region of USPSA, made up of Delaware, Maryland, New Jersey, Pennsylvania and Virginia, has raised over $7,300 for the charity.
To learn more about practical shooting, or join the 20,000 members of USPSA in the most dynamic and fast-paced shooting sport around, visit USPSA.org, follow @USPSA_Shooting on Twitter, like USPSA on Facebook or read the Practical Shooting blog.
Contact:
Dave Thomas
(360) 855-2245 or dave@uspsa.org
About Barbara Baird

Publisher/Editor Barbara Baird is a freelance writer in hunting, shooting and outdoor markets. Her bylines are found at several top hunting and shooting publications. She also is a travel writer, and you can follow her at https://www.ozarkian.com. View all posts by Barbara Baird →