Project Appleseed's new look OK with us
Our pal, Wild Woman Gretchen Steele, alerted us to this new "look" over at Project Appleseed. Gretchen, an outdoor woman extraordinaire, photojournalist and blogger, as well as Shoot to Thrill photographer, picks up on these things.
Project Appleseed combines traditional American marksmanship rifle skills with a heritage program that includes the history of the Battles of Lexington and Concord. Women and children, as well as members of the military and the disabled, may attend for either free or greatly reduced prices.
Sponsored by The Revolutionary War Veterans Association, the all-volunteer program is taught by marksmen who scored 210 or above using open sights on the Army Qualification Test. These instructors volunteer their time to train others in the skills necessary to be a marksman. Instructors also take turns telling the story of the Revolutionary War struggles of the marksmen and other patriots.
We've been there at a Project Appleseed, my husband and I. We lay in a farmer's field in a line of shooters — ranging from a seven-year-old girl with her daddy to a grandpa and his boys. It changed our lives; it connected us to the reason we're here and free. We're going back.
See information about Project Appleseed.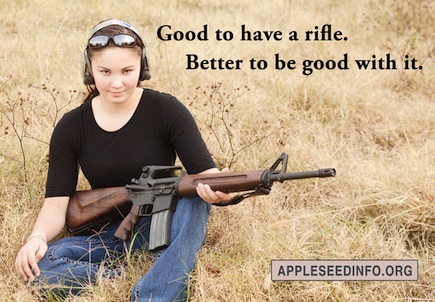 About Barbara Baird

Publisher/Editor Barbara Baird is a freelance writer in hunting, shooting and outdoor markets. Her bylines are found at several top hunting and shooting publications. She also is a travel writer, and you can follow her at https://www.ozarkian.com. View all posts by Barbara Baird →
The Conversation