Gear Court: UCO's Micro Candle Lantern a mighty mite of light
It's tiny. It's cute. It comes in a lovely lavender and lots of other fun colors. But it's not a toy.
I was given the opportunity to try out UCO's new Micro Candle Lantern. The Micro, which was provided free of charge by the company, is a smaller version of their Candle Lantern.
Its diminutive size and attractive colors make it very appealing to kids, but small children should not be allowed to handle the lantern. I allowed my teen to use it only after she had been instructed in its hazards.
Hot wax can spill out around the top if the candle is tipped too far. (Wax that overflows the tealight stays inside the cylinder).The metal top and the chain directly above it get very hot to the touch, but the end of the 6" chain was comfortable to hold. When I hung it inside the tent, I worried that it might produce too much heat and melt the tent. The candle burned for a little over an hour; the tent fabric was warm but never so warm I was worried about it bursting into flame.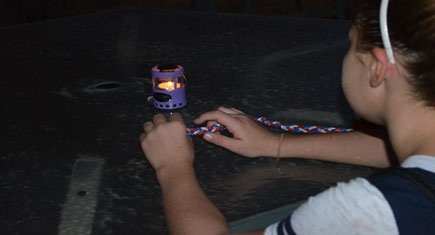 The Micro Candle Lantern will fit in a pocket. It weighs a mere 4 ounces, which is perfect for backpackers. The candle produced a nice glow, not quite enough for me to read by, but definitely enough to illuminate a late night dinner. I would take it packing as a backup when all those battery powered devices failed.
The lantern comes with two tea lights, one in the chamber and the second stored in the base, and slides down into a nice, compact canister of less than 3" tall when stored. The tea light burned for 1 hour and 20 minutes in still conditions.
I'm still leery of hot wax in my tent, but I will stash one of these in my backpack for back-up. This is the perfect addition to an emergency kit for both home and car. It produces sufficient light to work by, is inexpensive to operate, takes up an itty-bitty space, and would be a lifesaver if you're stranded in a snow-packed ditch.
The Micro Candle Lantern retails for $12.99, and can be found at many outdoor equipment retailers or at this
website.
Visit Traci Schauf's blog, Mom On Vacation, and follow her may outdoor adventures.
About Traci Schauf

Traci Schauf ia a blogger, a blonde, a bookphile and outdoor obsessed. She contributes "The Happy Camper" to The WON. She also hosts her own daily blogs about her family and outdoor life. View all posts by Traci Schauf →