Babbs in the Woods: Traci Schauf … on building a successful outdoor blog
In certain circles, she's known as Mother Nature. Here, at The WON, we call her The Happy Camper. But who is she and why does she blog? Recently accepted into the prestigious blogging network of BlogHer, Traci Schauf tells us why she blogs and how her Mother Nature blog has been built.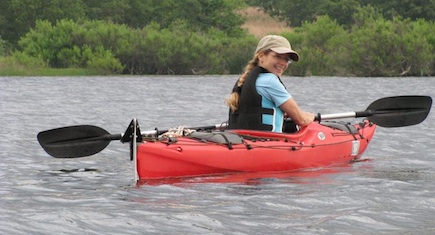 Babbs: Tell us about the run-up to having your blog listed at BlogHer, which as anyone who is anyone in the blog business knows is a good thing!
Traci: I applied several times before I was accepted. Your blog has to have been in existance for at least six months, you must post at least weekly, and your blog is reviewed for content "compatible with BlogHer."
Babbs: You've been blog dabbling now for how many years?
Traci: Almost 2 years! I started on my birthday when I was feeling-um-less than spring chicken-like.
Babbs: Why are you a blogger?
Traci: It's a creative outlet. It started as one of those memoir-type projects. I decided to quit my nice, steady job to try writing full time and blogging about it seemed the logical next step. (There's still a big unanswered WHY on that one!) I never truly got away from outside work because I continued to teach at a local junior college. The other intent was to travel, which we did a lot the first year. That has slowed down a lot the second year as life has happened. And yes, (forgive me, family) I've been guilty of packing the iPad so I could blog from camp.
Babbs: I like your comparison of a blog to childbirth. Wanna expand on that?
Traci: Oh – you mean blogging is like childbirth because you lose all modesty and you want to share your news with the whole world? I'm a very private person. Most of the people I work with don't know I'm Mother Nature, and are always surprised when they find out, because I never discuss my home life outside of the blog. My husband is constantly exclaiming, "I can't believe you're telling the world about that!" (Whatever "that" may be at the moment.) There's a certain anonymity to blogging, but it also allows me to release that writer who wants to brag, boast, gossip, be sarcastic, or tell bad jokes. It's the real me that never gets to come out and play with others, because she doesn't always play well!
Babbs: What are your responsibilities as a BlogHer blogger?
Traci: Advertising management. You have to agree to pretty stringent rules about advertising on your blog. And then of course, there's meeting those requirements of weekly posts, which I can say has never really been a problem for me unless I was backpacking!
Babbs: Why BlogHer? Why did you want it?
Traci: It's a huge network, with such a great variety of bloggers. It doesn't lock me into a tiny niche, and I have met so many people from different parts of the country and in different lifestyles than my own it's amazing. It's a global community that broadens my horizons. They also offer a lot of things to their bloggers – workshops on all sorts of topics.
Babbs: What's the response been to it and how long has it been up?
Traci: The readership continues to grow steadily. Using Twitter as another platform for my blog has helped. I saw a jump when my blog was listed at the Women's Outdoor Media Association's website and The WON, and again when it went BlogHer. I notice that I get the most responses to the outdoor posts. All the more reason to get outside!
Babbs: Where else do you contribute these days, other than The Happy Camper at The WON?
Traci: Occasionally on Whole Living. That's the sophisticated world of blogging that Mother Nature is not! I love vegan sharing recipes at WL, and I've made some great friends there. I've also been published in Women's Adventure Magazine a couple of times. It's an awesome publication.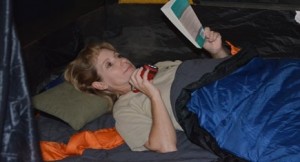 Babbs: And in your spare time?
Traci: Backpack! Kayak! Kayak! Backpack! Hike, bike and garden!
Babbs: What are your holiday plans?
Traci: We'll be spending the first half – up through Christmas in Oklahoma with family, which will include a lot of shopping and eating. Then off to Kansas through the New Year, which will include eating, no shopping, and whatever outside activities we can fit in. I'm pretty sure that at least means fishing and photography.
Babbs: And we bet she'll be blogging merrily throughout the season, too!
Please visit The Adventures of Mother Nature, and of course, you can read all of Traci's blogposts here at The WON, too!
About Barbara Baird

Publisher/Editor Barbara Baird is a freelance writer in hunting, shooting and outdoor markets. Her bylines are found at several top hunting and shooting publications. She also is a travel writer, and you can follow her at https://www.ozarkian.com. View all posts by Barbara Baird →