Hollywood and a Vermont high school help Casting for Recovery bring in the votes
Manchester, VT– What do a Grammy Award-winning music producer, a 16-year-old high school film student, and a nationally known singer with a soaring voice have in common? All three have united to donate their talents and energy to an inspiring public service video that will help raise funds for Casting for Recovery, a premier quality-of-life national breast cancer survivorship program.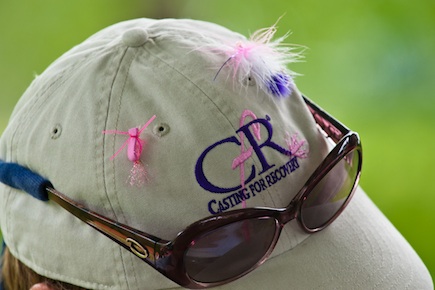 Casting for Recovery is a finalist in The Pink Well Challenge, a national campaign by The Lester and Sue Smith Foundation offering $1 million in matching grants to organizations engaged in breast cancer research, prevention, treatment, and patient support throughout the U.S. As one of the 30 finalists, Casting for Recovery will receive a $45,000 matching grant from the foundation.
All finalists have created short videos about their organizations that appear at http://pinkwell.org/voting/. The public is invited to view and vote daily for Casting for Recovery's video until May 15. The organizations whose videos receive the most votes and raise the most funds will each receive $50,000 in additional grants from The Lester and Sue Smith Foundation. The winners will be announced June 2, 2012, in a special ceremony honoring National Cancer Survivors Day.
Los Angeles-based music producer Jeff Bova enthusiastically contributed to the Casting for Recovery video by producing the soundtrack song "If I Were Brave" performed by the Four Bitchin' Babes and featuring vocalist Megon McDonough. Bova is a Grammy Award-winning keyboardist, composer, arranger, and record producer for such mainstream artists as Celine Dion, Michael Jackson, Eric Clapton, and Herbie Hancock, among many others. In addition to his top-level music contribution to the production of their finalist video, Casting for Recovery also engaged its local community by using the budding talents of a young film student at Burr and Burton Academy in Manchester, Vermont.
The Pink Well Challenge, created by Texas oilman, philanthropist, and two-time cancer survivor Lester H. Smith, is symbolized by an active pump jack in the heart of West Texas painted bright pink. Smith says it represents how he is using proceeds from his energy industry successes to "pay it forward" in supporting breast cancer research, patient care, and survivorship programs like Casting for Recovery.
About Casting for Recovery
Casting for Recovery is a leading quality-of-life organization that provides opportunities for women whose lives have been profoundly affected by breast cancer to gather in beautiful, natural settings at retreats that incorporate counseling, educational services, and the therapeutic sport of fly fishing to promote physical and mental healing. One recent participant said, "Fly fishing is a metaphor for how we will live our lives after breast cancer: stay focused and aware of what surrounds us, move slowly and with grace, and be fully present in what we are doing."
Since 1996, CFR has served more than 5,000 breast cancer survivors, with the help of over 1,500 volunteers. In 2011, 47 retreats were held across the United States, serving women around the country. Casting for Recovery retreat programs are offered at no cost to the participants. Numerous medical and psychosocial professionals and institutions consider Casting for Recovery one of the leading programs providing support for women with breast cancer.
Casting for Recovery is supported by generous donations from individuals, foundations, and corporations. Its premier national sponsor is The Hartford and other national sponsors include L.L.Bean, Under Armour®, SmartWool, and Sisters on the Fly.
Casting for Recovery is a 501(c)(3) nonprofit organization. For more information about the Casting for Recovery program, please call: 802-362-9181 or visit www.castingforrecovery.org.
About The WON

The Women's Outdoor News, aka The WON, features news, reviews and stories about women who are shooting, hunting, fishing and actively engaging in outdoor adventure. This publication is for women, by women. View all posts by The WON →
The Conversation