Ellen Moberly wins GunGoddess jewelry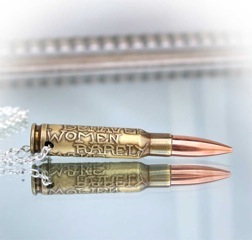 Congrats to WON reader Ellen Moberly, on winning the beautifully etched casing in her choice of jewelry from GunGoddess.com. Thanks to Athena Means for providing such a beautiful piece of jewelry. We enjoyed reading your comments, about some of your favorite quotes regarding shooting. Ellen wrote:
My second husband and I had a friend who was a doubting Thomas about my shooting skills. He wouldn't take my husband's word that I could shoot, and there really had never been a reason to show him. Finally one day he got on my husband's nerves. As we were out on the farm, we both were wearing our sidearms. Suddenly my husband said, "Show him." And threw a pop can up and off the porch, I pulled my 9mm out, kicked the slide back and began shooting. All six shots hit true and I had that can dancing all over the place. The doubting Thomas was standing with his chin down about his knees somewhere. Everywhere we all went after that his words were always, "Don't mess with her, she'll have you full of holes before you know she even drew on you." We thought it was funny.
About The WON

The Women's Outdoor News, aka The WON, features news, reviews and stories about women who are shooting, hunting, fishing and actively engaging in outdoor adventure. This publication is for women, by women. View all posts by The WON →
The Conversation