Michelle Bodenheimer wins bow trainer, custom slate call and scent free products from HERCAMOSHOP.COM
Our friends Shelly and Jeff Ray, of HERCAMOSHOP.COM, will be sending avid bowhunter Michelle Bodenheimer this nice little gift! Comprised of three popular items in their inventory, the giveaway contains a bow trainer by Prairie Innovations, a custom slate turkey call and the complete line of HERCAMOSHOP.COM's personal care products.
Bow Trainer by Prairie Innovations
Designed by an avid archer and certified physical therapist, Bow Trainer tm is a unique training tool that can help archers obtain greater accuracy by improving their form and increasing their strength and stamina. Bow Trainer tm is the perfect training tool for archers of any age and level of experience-from novice to seasoned professional.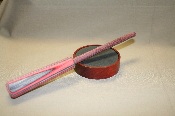 Custom Slate Turkey Call
2 1/2″ maple call with a purple heart striker. This combination of woods provide for easy use and perfect sound quality. The small size is great for small hands and soft calls.
HERCAMOSHOP Personal Care Products
Body wash, shampoo, conditioner, hair gel, lotion and hair spray. The complete package that allows you to feel good, look good and be scent-free. No more frizzy hair and dry skin during hunting season.
Here's what MIchelle wrote: "My favorite bow is my current Hoyt Ruckus. The Ruckus is comfortable, not only because It fits my small frame well, but because it is consistent and I know I can rely on it with every draw. It is lightweight and balanced, and it has never let me down."
About The WON

The Women's Outdoor News, aka The WON, features news, reviews and stories about women who are shooting, hunting, fishing and actively engaging in outdoor adventure. This publication is for women, by women. View all posts by The WON →
The Conversation