An Open Letter to the men at My Gun Culture: And an opportunity to win an AMPLIFI cleaning system
Dear Men of My Gun Culture,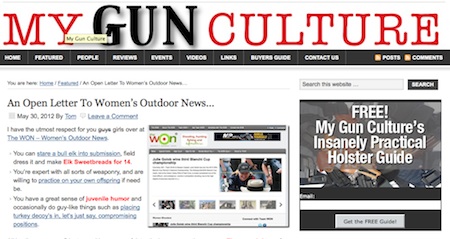 In response to your "Open Letter to Women's Outdoor News" regarding Father's Day gifts and our abilities to pick 'em. Nice try. Some of us also are trappers in our group and so, we can smell the bait from miles away.
What? You don't think tickets to a Barbara Streisand or Nora Jones concert would be fantastic Father's Day gifts? Or what about these ideas?
1. A trip to learn about the softer side of Sears, complete with a matching pair of khakis, golf shirt and Sperry Top Siders? And maybe, if you're nice, you get to smell the tool section for a few minutes.
2. A special day out at our newly conceived program held in a church basement and called "Men in the Indoors." Where you will learn how to sort laundry, plan for a party for a three-year old child and 45 of her most intimate friends and how to stretch an 18-pound turkey with plenty of side dishes for a Thanksgiving meal for 50?
No, really … we are just messing with your heads (again).
What we really recommend (and so believe in it that we're going to gift one to our readers!)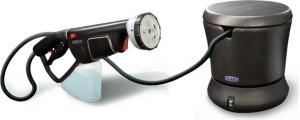 We think the perfect gift for Father's Day from The WON is the AMPLIFI system. And yes, you have to shout it because it's in caps.
It's not a power washer. It's a well-built washing system from Briggs and Stratton that offers controlled flow with sensitivity.
Here's how one of your favorite companies, Briggs and Stratton, describes the AMPLIFI!
Pressure washers are designed to produce high pressure and low flow that is perfect for project-based cleaning such as stripping paint or stain from wood or removing heavy mold from cement or home siding. Alternatively, the Amplifi hose powering system produces much less PSI while providing an increase in water flow over that of a pressure washer but less than a regular house spigot. The Amplifi System's balance of water pressure and flow is excellent for cleaning areas without removing paint or stain while easily washing away dirt preventing it from settling back onto surfaces.
For additional information, please visit the Amplifi Cleaning Website.
Just to check it out for you guys, I tried it — on my tractor, junker truck, ATVs, deck and arbor. I like the way it handles and the way it stores within itself after use.
So … we're thinking that the perfect Father's Day gift is AMPLIFI. And you can wash her car and then, water the flower beds!
Other reasons I like the AMPLIFI:
Waters, soaks, rinses and cleans (and stays outside — "always ready when you are!")
Pump supercharges within seconds
AMPLIFI nozzle can reach up to 30 feet away, 4.5 times impact force of standard nozzle and up to 2 times more volume
Can switch settings from power to delicate — for flower beds.
Can apply detergent in any nozzle setting, including liquid waxes and spot-free rinses
All weather storage container
And for a fantasy shot, check out this YouTube video on the system.
Wanna Win WON — an AMPLIFI for you (or your guy?)
Just suggest another course for our "Men in the Indoors" program by the deadline, midnight, June 3. We'll let Random.org choose one winner and AMPLIFI will ship the product to your doorstep. You can take it from there.
Psst: Also, we heard that the guys over at My Gun Culture also are offering a giveaway for cleaning something — guns, of course! From Otis Technology … you should check it out!
About Barbara Baird

Publisher/Editor Barbara Baird is a freelance writer in hunting, shooting and outdoor markets. Her bylines are found at several top hunting and shooting publications. She also is a travel writer, and you can follow her at https://www.ozarkian.com. View all posts by Barbara Baird →
The Conversation