Millsecond Molly: Where Molly learns about archery
Recently, I was in Redding, Calif., for the 29th Western Trail Classic Archery competition! I was asked to be a California Correspondent for American Trigger Sports Network TV, so I was covering the event! The Western Trail Classic is a remarkable event, orchestrated by a brilliant team from the Straight Arrow Bow Hunters. For the past 44 years this archery club has been in existence and the last 29 of which they hosted this amazing event. I looked at the number of competitors and couldn't believe it – more than 1400! I couldn't understand how a club could run such a match so smoothly. It was evident that dedication and love of the sport was a huge part.
While I awed at "Big Foot," a 16-foot, 3D target shot from 101 yards away, I wondered what made the match this great. Then it struck me: it's the 3-D characters – from full-size elk to butterflies – that dot the Manzanita covered hills, the tactical challenge, the character of the people that put on this match and the skill and endurance of the competitors.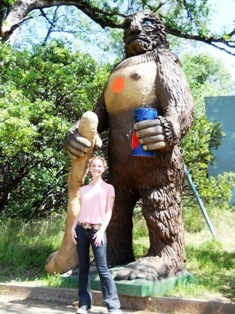 Another reason it's great is because so many athletes keep coming back year after year to participate! Two archers in particular come to mind. Wade Smith, a solider from Afghanistan, requested his only leave for the year to allow him to compete in this match. Kelson Uradomo, a Junior National Champion, flew all the way from Maui, Hawaii, to participate! I enjoyed meeting them and hearing about their passion for the competition. In thinking about the "rigs" the archers use, I found that I made a comparison with shooting. The longbows I saw were like a limited revolver and the compound bows, with their intricate mechanical parts and sights, made me think of an open semi-auto.
I spoke with many of the competitors and discovered that some are quite skilled hunters; some are exclusively target competitors, while many shoot in trigger sports in the off-season – and those are just the women! Like many similar sports, seeing the women out there competing alongside the men was fun to watch. The sheer strength and stamina of these women was so remarkable. I watched and spoke to women such as Samantha Morgan, a World Champion and Women's pro, married to Levi Morgan, (ASA Shooting Champion for six years in a row). The women at this event, and those in other outdoor sports, have an amazing thread that weaves through them – to just "get out and try it" and "it's empowering, engaging and so much fun!" I have so much respect for the women and children competing in all sports. And in this match, the women competing for three days, about 23 targets each day, up and over terrain that was difficult for me to walk (and I wasn't lugging gear and babies). It was remarkable to see how great their shots were!
And speaking of terrain, it was the simulated hunting aspect that was so interesting. Climbing down into gulches and nestled between trees and sandy inclines added to the need to depend on your instincts, to look and listen to what is around you. The importance of paying attention to the environment was evident to me when I watched Jesse Broadwater. He drew back his bow, a long draw as he inhaled; he stopped for what seemed like an entire minute. As the crowd around him held their breath in anticipation, he exhaled and pointed down his bow, just as a huge gust of wind blew up the gulch that separated the group from the targets. That was the gust that could have made him lose his shot. I was in awe. It was pure instincts and skill!
That the competitors read signs in nature and were in tune to all that was around them – I'll always keep that concept with me, the importance and value of listening to nature and the environment around me. This revolver shooter sure learned a lot this weekend.
About Molly Smith

California teen shooter Molly Smith shoots for Team Smith & Wesson, and prefers a 627 Smith & Wesson iron-sighted revolver. She attends several matches each year, and loves to write about them at her column, "Millisecond Molly." View all posts by Molly Smith →