Original S.W.A.T. boots fit her just fine
I don't know how many mothers and wives are in the same boat as I am, but my family consists of my husband and two teenage sons. So, being the "odd man out," when it comes to outdoor activities, I always get the hand-me-downs.
When we take the boys hunting during youth gun season, I wear the coveralls my son outgrew … along with an extra pair of men's size 11 boots. I am told they will work just fine. As I clunk along and drag these heavy, extra wide boots, I mumble to myself (while breathing heavy and pursing my lips), "Men's shoes are not made the same as women's. Size 11 in men's does not equal size 10 in women's. Someday I will have my own boots."
A similar scenario happens when I attend shooting matches with my family. Since the terrain is usually rugged, I am given a pair of worn out, tread bare hiking boots to wear. They aren't the most attractive and usually have an unpleasant scent if they belonged to my son. Now, one might ask, "Michelle, why don't you just buy your own boots?" Well, the answer is simple. I haven't worn a pair I liked enough to invest money in …
Until now!
Just recently I received my own pair of Original S.W.A.T. Women's Classic Series Boots. These tactical boots are made specifically for a woman's narrower heel, higher arch and longer toes. The first time I wore my 1152F Classic 9" Side Zip boots, I was on my feet all day. I was running on hills, going up and down stairways and maneuvering around the roof of a building. Never did I have my usual thought, "My dogs are barking! I can't wait to get these boots off and put my feet up."
These lightweight boots have a custom molded thermoplastic heel counter and toe box, which means they feel already "broken in" right out of the box. My feet were extremely comfortable, never feeling like they were swimming around in boots that were too wide and clunky. I would have no problem paying the $104.99 MSRP. Especially since Original S.W.A.T. guarantees the workmanship and quality of their boots.
However ….
The only complaint I have was I really like the Original S.W.A.T. Classic Tan Side Zip (which they currently do not make in the women's style). I am happy to say that I don't have long to wait. Kevin Cole, of Original S.W.A.T., informed me that the women's specific model will be available in tan color in August.
I look forward to wearing these boots on the ranges, whether I am climbing around trying to get some great photos or shooting along with my family. Would I wear these boots hunting in extreme weather? No, these are tactical boots. Hopefully I will get a pair of my very own hunting boots (along with other products just for women).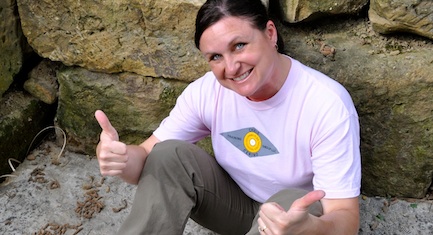 The WON welcomes new writer Michelle Cerino, a school teacher from Ohio who leads a very active lifestyle outside the classroom. Learn more about Michelle at her website, Chris Cerino Training Group.
About The WON

The Women's Outdoor News, aka The WON, features news, reviews and stories about women who are shooting, hunting, fishing and actively engaging in outdoor adventure. This publication is for women, by women. View all posts by The WON →
The Conversation