She's looking at the world through rose-colored binos from Alpen Optics
As I mentioned previously, being the only female in a household of outdoor enthusiasts means I always get the extra gear that was purchased for one of the boys. I rarely buy something that is just for me because it just isn't frugal. Well, I have come to the conclusion that if I had the proper clothing and equipment, made just for women, maybe I would enjoy these adventures more.
I won't be the mom just tagging along.
One way to distinguish my equipment from the boys' is to take full advantage of the color pink. I now own my very own pair of Alpen Optics 10X42 waterproof binoculars and yes, they are pink. Alpen Optics makes an annual donation to support breast cancer research and this is their way to help "focus" (get it?) on the cure since many people associate pink with breast cancer research.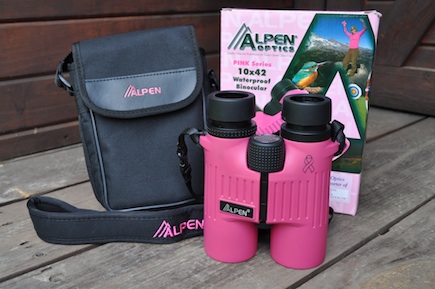 The binoculars came with a nylon carrying case, extra wide adjustable neck strap, cleaning cloth and most importantly, instructions. I am the type of person that reads all the directions in manuals (unlike others in my home), so I was extremely happy they were included. I sat in my backyard, attached the included neck strap and followed the procedures for focusing. You do not want to miss this important step that gets you optimum performance. These binoculars have two focus adjustments to correct the difference in vision between your left eye and right eye. While setting the focus, I noticed how the binoculars fit comfortably in my hands – with the center focus wheel in an area where my index finger naturally fell. The wheel is also textured, making it easy to identify tactilely.
Another important feature of my Alpen Optics binoculars is that they are designed with long eye-relief. This is a benefit to eyeglass or sunglass wearers, allowing them to see the entire field of view, even around the edges. The adjustable eyecups allowed me to position them easily so they are comfortable with or without sunglasses. They twist with four different settings for stopping. I prefer mine all the way out when I am not wearing sunglasses.
I have to say I was amazed at the clarity and brilliance of the scene as I looked through my Alpen Optics binoculars. I was able to see details when moving from bright sun to shadows, from close range to far. The big test for me was to try them in a low light situation, since many times while hunting with the boys we would question a noise in the distance and not be able to identify anything through other binoculars of less quality. Once again I was impressed and can't wait to use them this fall.
To purchase your own pair of pink Alpen Optics binoculars you can go directly to Alpen's website. The MSRP is $242, but as of my writing this review they are on sale for $170.
I honestly have no complaints about my binoculars. They are lightweight, easy to manage, superior quality and pink. The only way to improve them would be with a binocular system harness. I guess you just have to wait until next time to hear about those.
About Michelle Cerino

Michelle Cerino, aka Princess Gunslinger, entered the firearms industry in 2011 when Cerino Training Group was established. She immediately began competing in both 3-Gun and NRA Action Pistol, becoming a sponsored shooter. Michelle is currently a columnist and Managing Editor of Women's Outdoor News, as well as owner of Pervenio LLC. She also manages social media for Vera Koo and GTM Original. Michelle encourages others to step out of the comforts of home and explore. View all posts by Michelle Cerino →
The Conversation